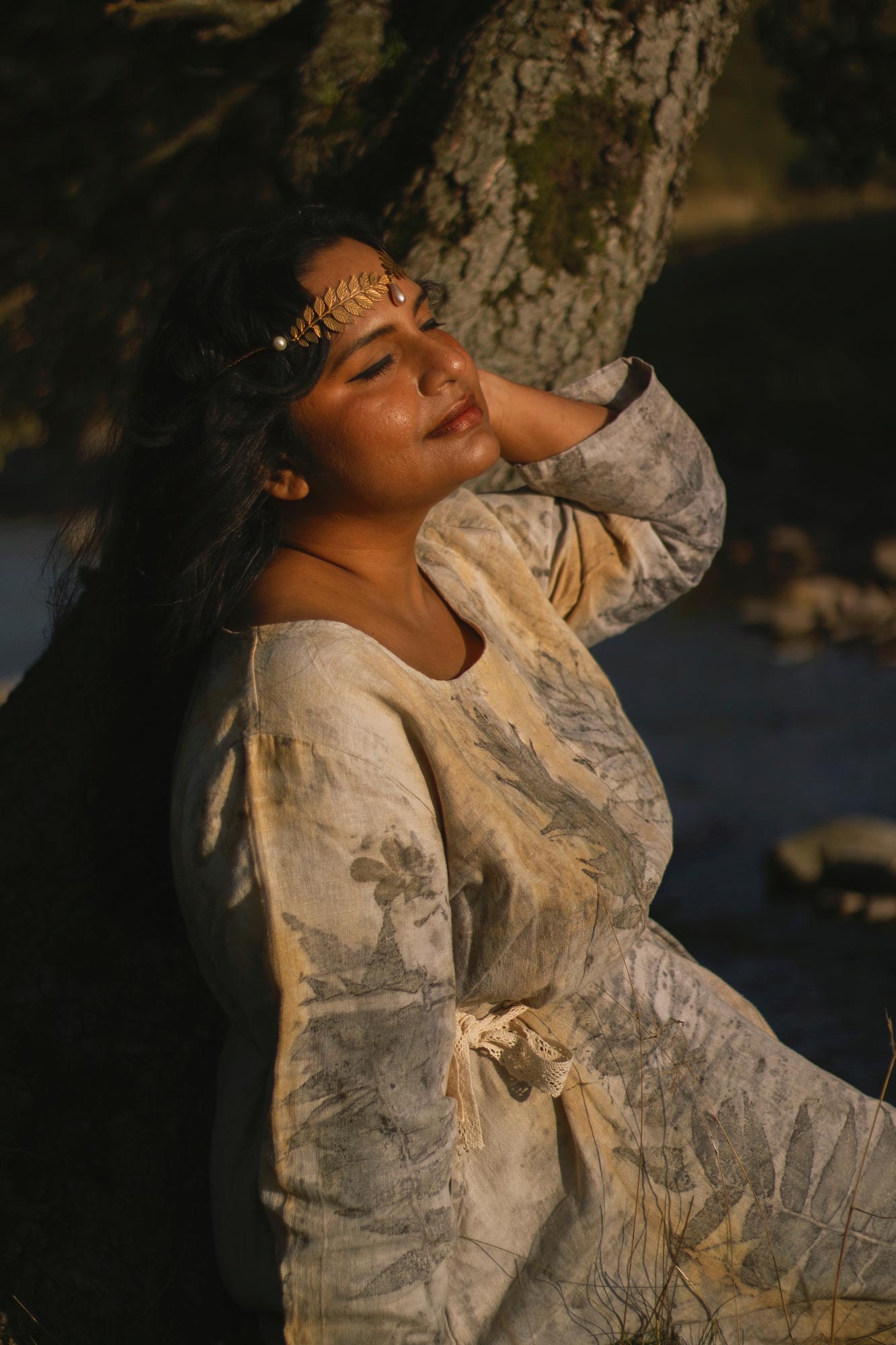 Wearing ✶ Eco printed linen dress by Gillian Smellie {Similar in a different print here} ✶ Hair crown from Eclectic Eccentricity 8 years ago ✶ Wide Welly Co. wellies
✶ Get 15% off your purchase from Gillian's online shop or in person at any of her pop up shops with my code CF15 ✶
Who else is watching the middle earth fanfic also known as The Rings of Power? I'm supplementing my viewing with a re-read of The Book of Lost Tales (Vol. 1) and it's fascinating to revisit Tolkien's earliest penned tales from over a century ago alongside the latest retelling fanfic. Elvish lore was very much on my mind when I received this breathtaking eco printed dress by Gillian Smellie, and it immediately transported me to the woodlands of Doriath, the hidden city of Gondolin and the shade of the mallorns of Lorien. For this is truly a dress fit for an elven queen!
Some collaborations unfold in the most serendipitious way. I met Gillian at her stall at the Brancepeth Castle craft fair back in the summer and instantly fell in love with her magical leaf prints. The next day when I posted some photos from the fair on my Instagram story, I tagged Gillian in one of them and to my surprise and delight I found an email from her in my inbox the next morning asking me if I'd like to style any of her pieces! Of course I jumped at the chance.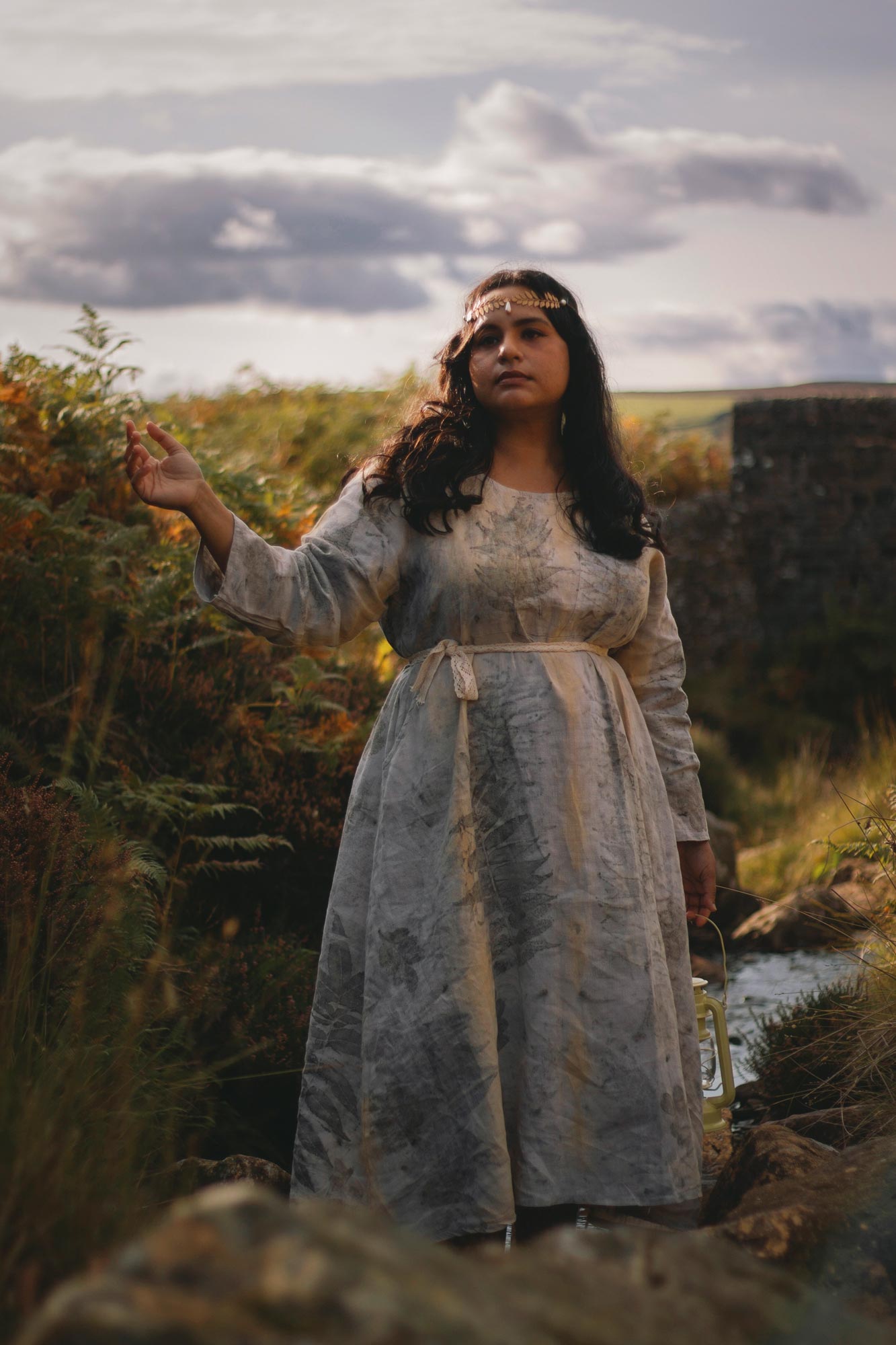 Gillian Smellie is a textile artist based in County Durham who uses locally foraged leaves to create unique and magical prints on preloved garments. You can read more about her dyeing process on her website here. Sustainable and eco friendly fashion is at the heart of her work and the reason she mostly prints on preloved and vintage garments. In my conversations with her, Gillian expressed her keen interest in expanding the size range of the garments she prints on. As pre loved garments in larger sizes that are also suitable for eco printing are rare, Gillian has been sourcing plus size linen dresses and tops from a manufacturer in Italy to expand the size range of her products. The dress I'm wearing is one of these.
At the craft fair, I was very taken by a pair of dungarees with a striking fern print that was sadly too small for me, so I requested Gillian to print my dress with all the ferns! As luck would have it though, ferns have been very low in tannin this season and produced rather faint prints, so Gillian redid the dress with sumac and rose petals and the results exceeded all my expectations. There are a few garments in my wardrobe that I'd classify as wearable art, and this dress is one of them. Despite being a huge Tolkien nerd for more than 2 decades now, I've never felt particularly inclined to dress up as a hobbit or elf…until I put on this dress and was enveloped in it's ethereal beauty. The linen is also buttery soft and has a lovely weight to it. I'm wearing a size large and it's very roomy and oversized on me (I'm currently a UK18-20) For sizing reference, I feel this dress is more of a UK 22-24.
You can shop all of Gillian's available products at her online shop here. Gillian also does a lot of pop ups and fairs in and around the north east of England, and you can see her schedule for upcoming shows here. As she has recently started expanding her range of plus size garments, it's worth dropping her a message if you want to buy one of her creations but can't find your size in the webshop. Gillian can also print on any suitable garment from your own wardrobe – here's what she told me about custom printing: "Yes I do print to order. I cannot guarantee the outcome but I can aim for a specific look/use specific leaves etc.  I'm not doing any more bespoke before Christmas but happy to take post Christmas orders." So if you'd love to have a piece of wearable art in your wardrobe but can't find your size in the online shop, get in touch with Gillian for a custom printed garment just like my sumac and rose elven dress!