We've been getting a monthly subscription box from Craft Gin Club since February this year and I wanted to talk a bit about it! Full disclosure: Owen is the gin aficionado in our family and I've been partnering with Craft Gin Club on a gifting basis as a little monthly treat for him. We receive the boxes, I create some content each month (sometimes with Owen's help, sometimes by myself) and then we enjoy the gin, snacks and mixers.
Would we pay for a Craft Gin Club subscription if I wasn't in a position to create photo and video content in exchange for the monthly boxes? The answer is yes. We'd probably get a bi-monthly subscription instead of a monthly one – Craft Gin Club offers monthly, bi-monthly and quarterly subscriptions along with the option of purchasing one-off boxes of the month. There are some monthly boxes that I've loved more than Owen did and vice versa, so I appreciate that there's the option to choose the ones you like the most.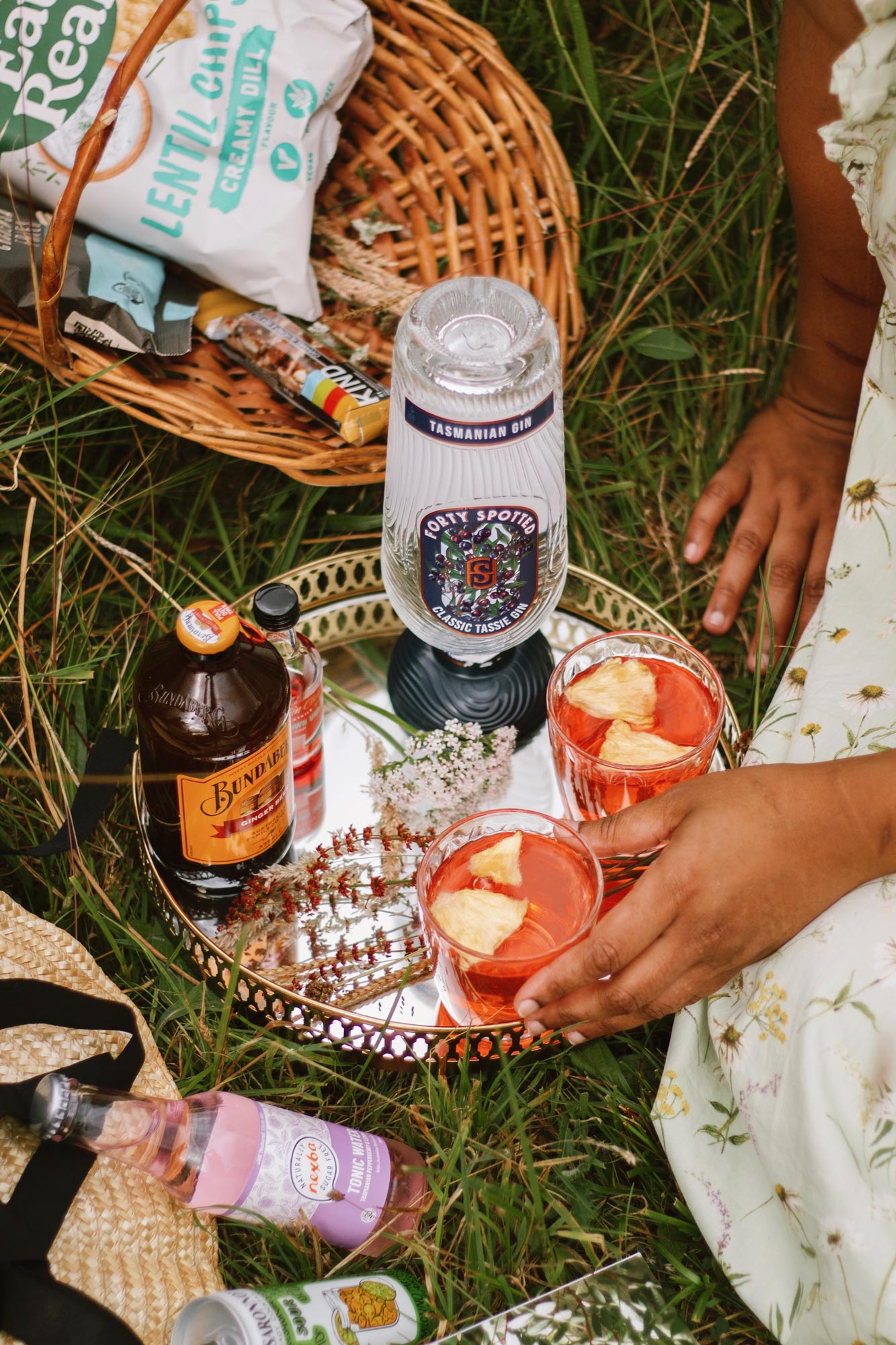 Whether it's a subscription or a one off box, Craft Gin Club makes for a wonderful gift as there are so many different things to try out in every box. Everything comes packaged beautifully and securely, and there's something for everyone. I love the fruity gin cocktails that I can make with the mixers while Owen prefers a traditional G&T. There are even things for Lila to enjoy (she loves the toddler friendly crisps and chocolate!) And thanks to Craft Gin Club, I've also discovered some new favourite beverages, both alcoholic and otherwise. That's my favourite thing about these boxes – there's a bundle of new things to try out every month that we wouldn't discover otherwise, and some of the snacks and beverages from previous months' boxes (blood orange cider and chocolate covered marshmallows immediately spring to mind) have become firm favourites in our household.
When we were shooting these photos in the meadows, we soon realised that we'd once again forgotten to bring a bottle opener, so we couldn't make the cocktail of the month for the photos! (With every subscription box, you also get an issue of the Craft Gin Club magazine which has a variety of cocktail recipes and ideas including the cocktail of the month, the ingredients for which are included in the box.) So I quickly made a cocktail of my own creation with the Tassie gin, limeade, cocktail syrup, and dried pineapple garnish. And it was so good! I know next to nothing about making cocktails and with the ingredients in a Craft Gin Club box, I can just throw things together to my liking and get a delicious end result. Now that's what I call magic!
This is July's box that you can see in the photos – we've already received the box for August and I can't wait to unbox it and try out the gin and other goodies inside! The boxes are £40 each and all of them have a full sized bottle of gin along with a range of tonics, mixers, garnishes and snacks to nibble on while flipping through the monthly magazine. Craft Gin Club also has frequent discounts on their website which make the boxes even better value! So here's to a subscription box that never fails to delight, month after month *clink* And to more makeup free photoshoots (did you notice?)