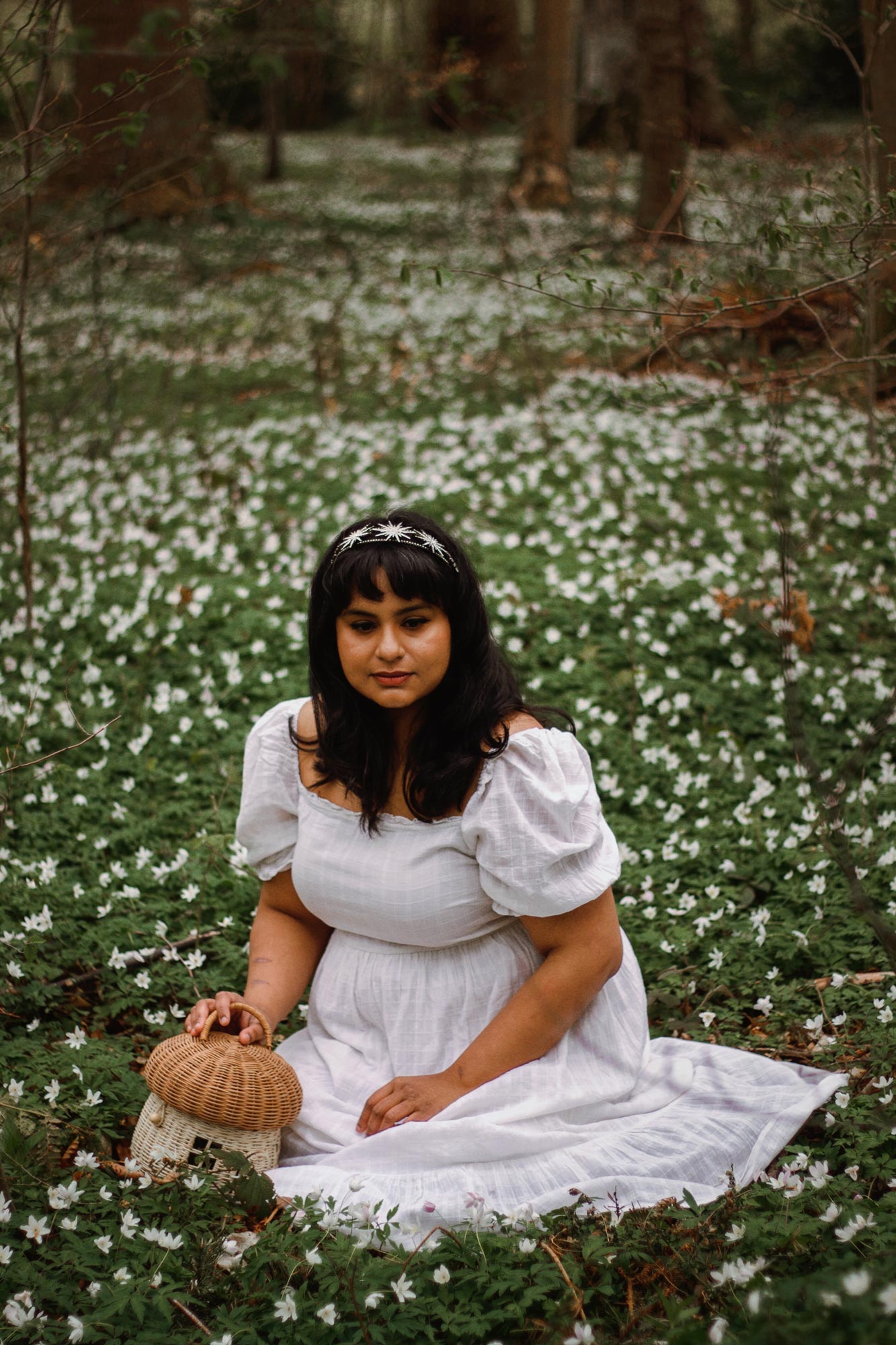 Wearing ✶ Old puff sleeve cotton maxi dress from Primark (similar here) ✶ My starry wedding crown (broke it out after 4 years!) ✶ Olli Ella Toadstool basket ✶ Seasalt fisherman sandals (not pictured)
When I saw on Instagram a few weeks ago that the woods at Wallington (where we shot the snowdrops early in March) had burst into wood anemones, we had to drive down for some photos! The day dawned hot and sunny and we made cucumber, tomato and cheese sandwiches for a picnic lunch amidst these magical, starry flowers. But of course the weather turned just as we were leaving the house, and by the time we got there the clouds were brooding and rain was imminent. We quickly snapped a few photos while Lila grumbled in her pram, and then we all sat in the car, eating squished lunchbox sandwiches in the pouring rain. All things considered, it was a very British holiday sort of day out for us!
If you follow me on Instagram, you'll probably have seen me wearing this dress a few times before – especially on the moors that time when the heather was in full bloom. For a £20 dress from Primark two years ago, this has actually been worn a lot more than most things in my wardrobe. I consider a puff sleeved white cotton dress to be a staple of a cottagecore wardrobe, and the frequency with which I wear this dress is proof enough! While I tend not to be too formulaic with wardrobe staples – you'll never find me saying that a specific piece of clothing is an absolute necessity for achieving a certain look – I find that a floaty white cotton dress with puff sleeves forms a solid backbone on which multiple cottagecore outfits can be constructed. With this in mind, I've linked to a selection of plus size white cotton dresses in the widget below to accommodate a range of sizes and budgets. You really can't go wrong with a timeless little white dress!