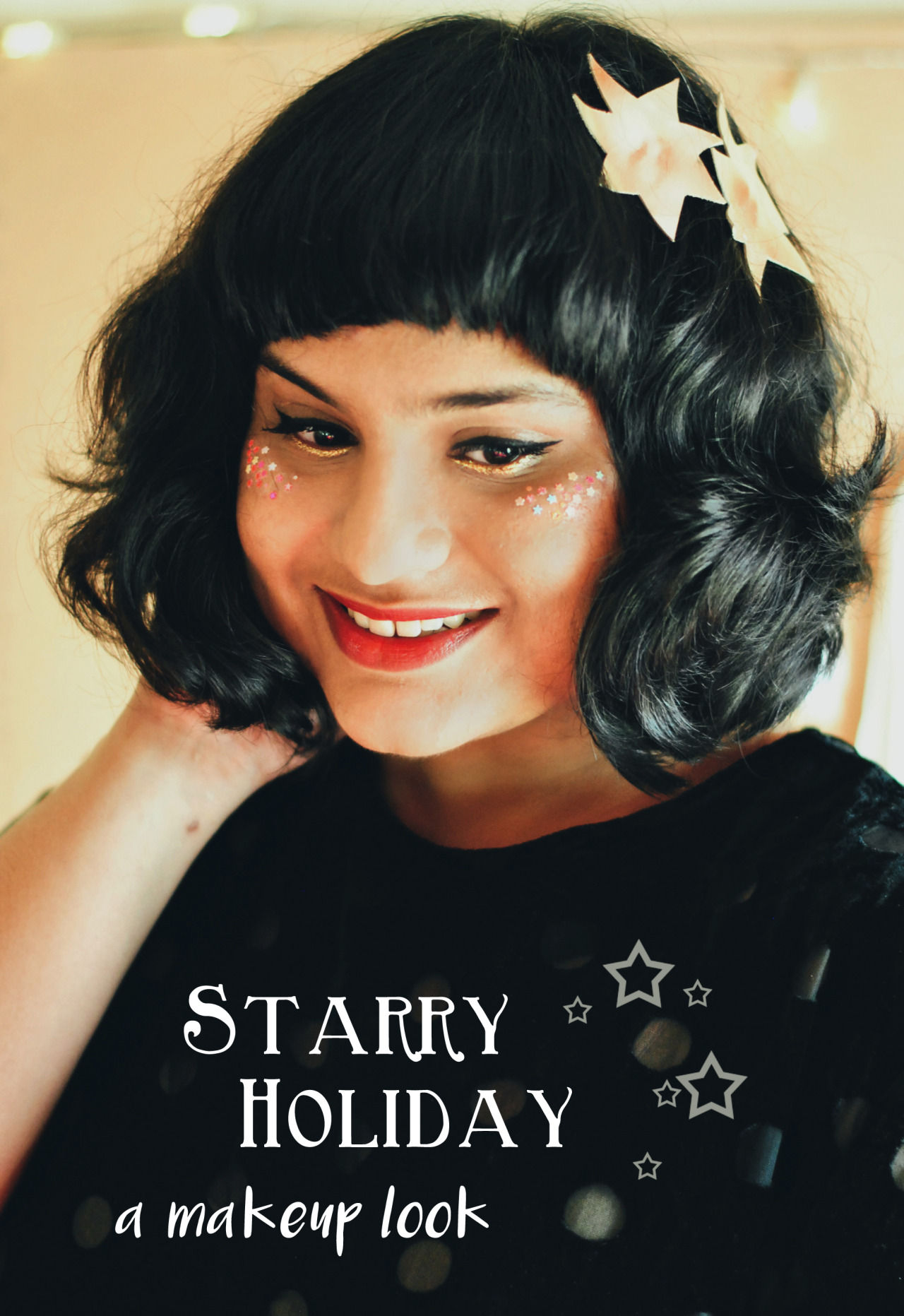 I decided to do something a bit different with this holiday makeup look when Sreejita gave me an entire pack of nail art decals a while ago. (I'm not a nail person, I just can't be arsed.) I've been seeing this image floating around the interwebs for goodness knows how long now, so I thought I could do my own take on it. Here's how I went about things:
I did my usual base with the Smashbox Camera Ready BB Cream and the Make Up For Ever HD Microfinish Powder. I've grown to like a more natural looking finish than I used to, and I don't like complicating my makeup routine with way too many products, so it's BB Cream all the way for me! I personally prefer the Sleek BB Cream with regard to texture, but the Smashbox one is closer to my winter skin tone, so it's what I'm using at the moment.
Then I lined my upper lids with the Maybelline Gel Liner (eyeliner of choice for 2 years now!) followed it with MAC's Superslick Liquid Liner in Pure Show on my lower lids, and did my upper lash line with Rimmel's ScandalEyes Mascara. I brushed my eyebrows into shape with a brow brush and followed it a swipe of Maybelline's Brow Drama Mascara. I love using a mix of drugstore and pricier makeup, and Rimmel and Maybelline are my most favourite cheap+excellent brands.
Now, I wanted to get hold of some eyelash glue to stick the little stars on with, but it was impossible to get hold of at short notice, so I went with some good old Boroline. Boroline – the pride and joy of all Bangalis – is an intensely sticky borax and lanolin based cream that's used to treat everything from chapped lips and cracked heels to minor cuts and burns. In its absence, you can use Vaseline just as effectively to stick similarly sized decals to your face. This Etsy store has a huge variety of holographic stars, hearts and glitter by the way, if you're looking to recreate this look! I used an old lip brush to dab the Boroline in tiny bits onto my cheek, and applied the stars one by one with my index finger.
I finished the look with understated, stained lips, using a mix of the Sephora Cream Lip Stain in Always Red and the Josie Maran Lip and Cheek Creamy Oil that I've posted about before. My ASOS velvet spot dress (which I'm yet to style properly on the blog eep!) and star hairclips by Flimsymoon went really well with it, I thought. This wasn't a hard look to do at all, and I hope it can serve as inspiration to go out of your comfort zone with makeup once in a while! After all, this is coming from someone who was terrified of makeup not so long ago, and I wish I'd discovered the fun of it way earlier! So happy experimenting, and happy holidays everyone!
Disclosure: this post contains affiliate links and I'll receive a small amount of compensation if you choose to buy anything through these links. Thank you for supporting my blog! ♥ Photos by Sreejita Biswas