Wearing ✶ Claude top in red and white c/o Ace&Jig ✶ Vintage Damart corduroy skirt (similar here) ✶ Olli Ella mushroom basket ✶ Old Tabbisocks folkloric socks (similar here) ✶ Vintage brogues ✶ Old Alice Hannah beret
Late in October, we finally visited Cragside after three whole years of living in the north east of England. Admittedly, it's a lot closer to us now that we've moved to Alnwick, and having a National Trust membership keeps us from having to pay the eye watering entry charges. We were only able to explore a tiny bit of the grounds on our first visit – you'd really need several days to see every corner of the 1000 acre estate!
If you're planning to visit Cragside (and don't have a National Trust membership) now would be the best time as the autumn foliage is still in its full regalia in Northumberland and entry prices in winter are a lot cheaper – £8 on weekdays when the house is closed and £13 on weekends when the ground floor of the house is open. Significantly less than the peak season price of £20 in the summer! You can find more information about opening times and ticket prices here.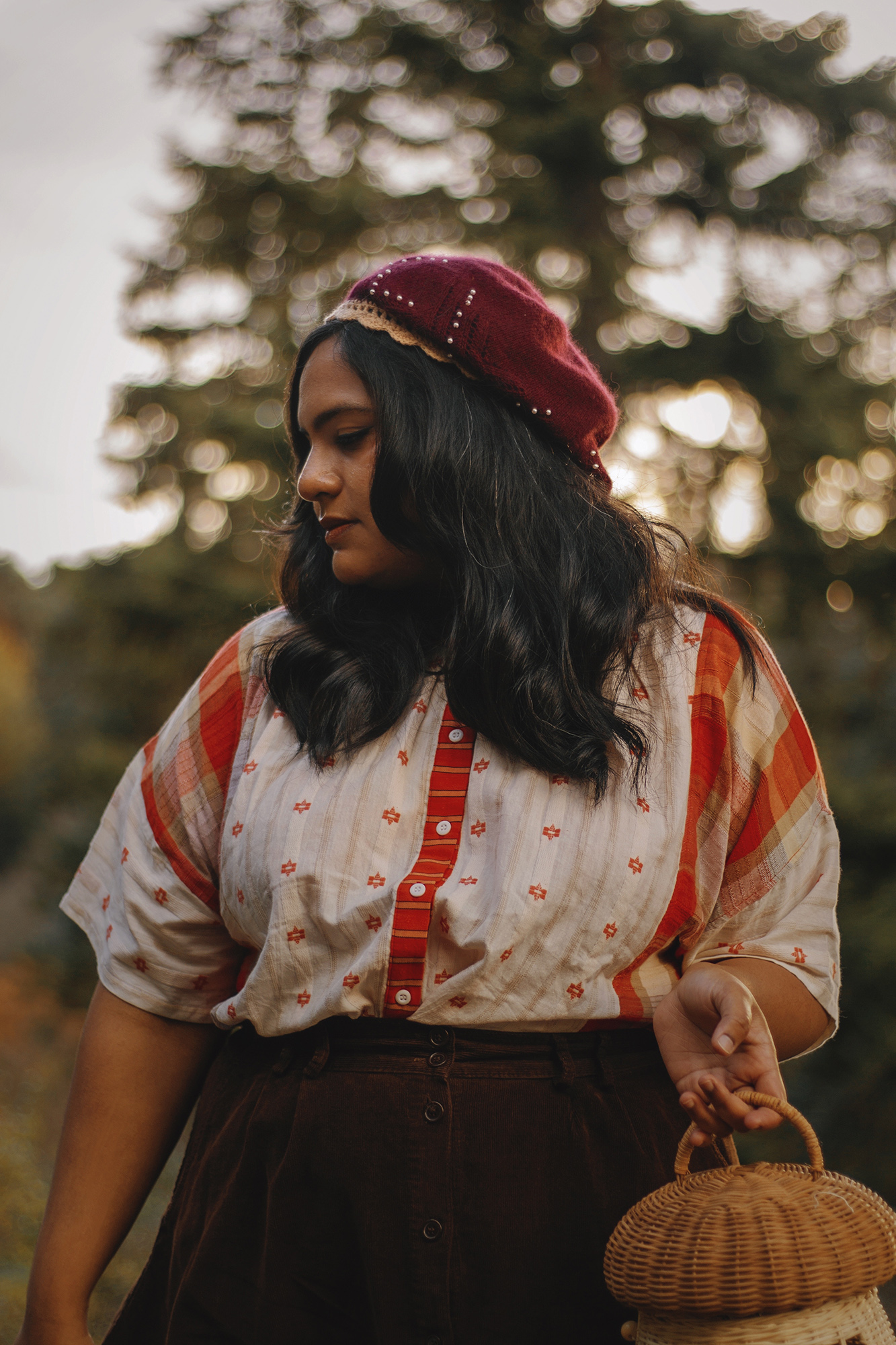 I also wanted Cragside to be the backdrop to my folkloric outfit, the centrepiece of which is the Claude top gifted by Ace&Jig. Made from past season fabric remnants, the Claude top is part of Ace&Jig's archival collection which only uses leftover fabrics from previous seasons to create something unique and stunning and new. I love how all these different textiles have been mixed and matched in one garment, yet the end result is harmonious and subtle instead of clashing. I'm wearing the Claude top in 1X as it runs quite large – I'm somewhere between 1X and 2X in Ace&Jig's sizing but I could easily have sized down to the XL as there's lots of room to spare. I feel like it'd also be the perfect summer blouse paired with some linen shorts!
And Cragside, as you can see, is nothing short of glorious in the autumn. We drove through the estate and had a leisurely walk along the pine lined trails leading to the house. Exploring new places with a toddler in tow limits how much we can see in one visit, but Lila had a grand old time running up and down the hilly paths and collecting all the leaves and gravel she could find! The house at Cragside will be open in full festive decor from the 18th of December and we're definitely planning a visit then! In the meantime, I'll let the photos do the talking and immerse you into an autumnal dream.