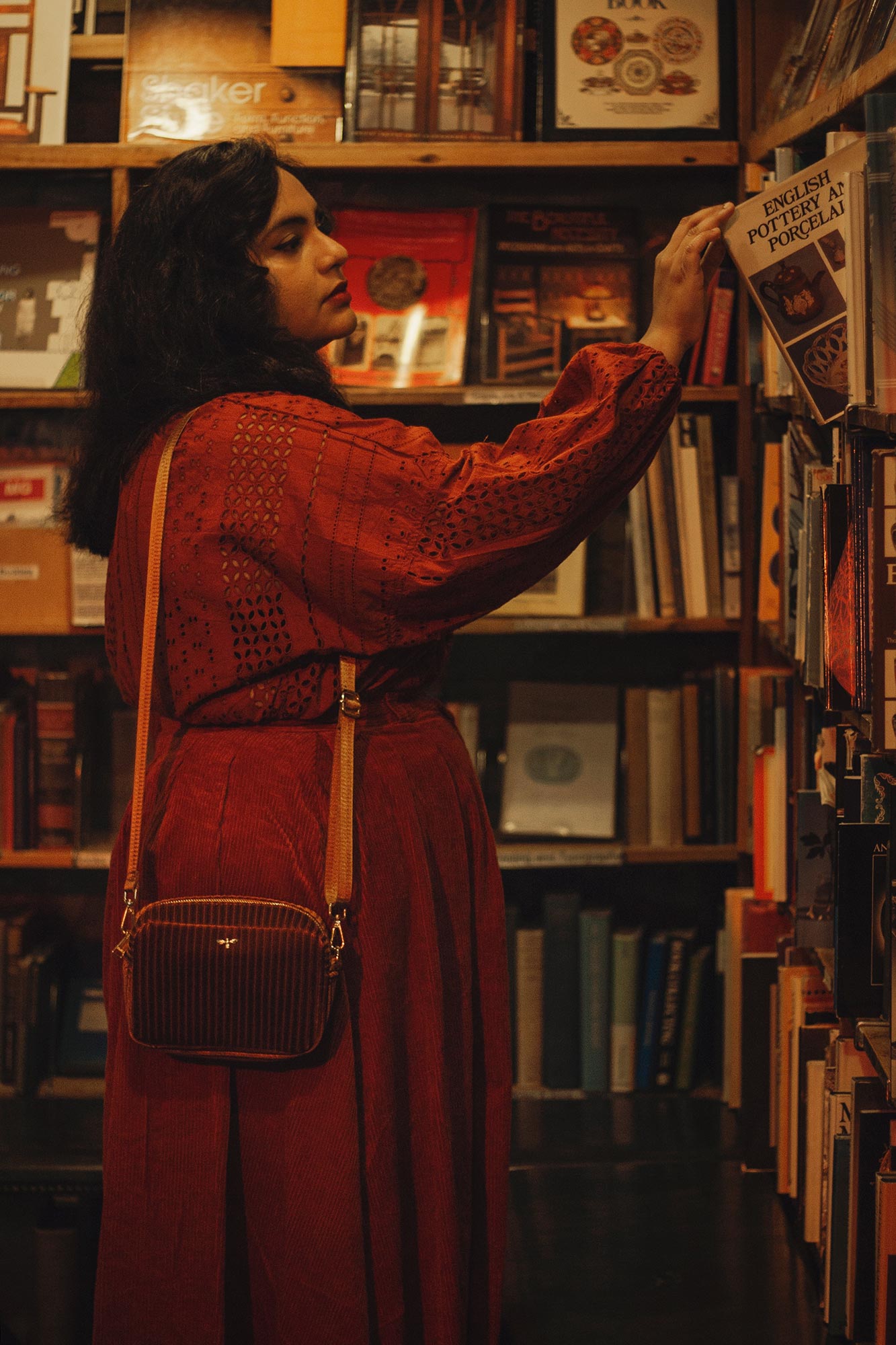 Wearing ✶ Past season ASOS top (thrifted) ✶ Vintage corduroy skirt ✶ Fable England velvet camera bag and dormouse brooch (gifted)
One of the great joys of living in Alnwick is having Barter Books right at your doorstep. Barter Books is one of the largest second hand bookshops in Britain and everything that a second hand bookshop should be. Housed in Alnwick's old railway station, it's a bibliophile haven of roaring fires, vintage armchairs, cosy reading nooks in every corner, and more books than you could read in a lifetime, or several. We took these photos late one Saturday evening as the day was winding to a close. I can't imagine any place more comforting than a cosy old bookshop on a rainy autumn evening, it's like a Tumblr aesthetic blog brought to life or the quiet moments of a Ghibli film.
I wanted to use the setting to get some shots of my autumnal, dark academia style outfit complete with the most darling accessories from Fable England. I've admired Fable's woodland and English countryside inspired enamel jewellery for a long time now, and last month they sent me some of their loveliest pieces to style. Just look at the little dormouse hanging onto my blouse – doesn't he look like he's popped out from the pages of The Wind In The Willows? I rarely wear jewellery but enamel brooches have a very special place in my heart – and when you add a touch of whimsy and British literary nostalgia to that, the result couldn't be any more perfect. My crossbody bag is also from Fable, and again has so many elements that I can't have enough of in my wardrobe – the rust autumnal tones, the ribbed velvet fabric, and the tiny bee monogram that pulls it all together – it pretty much has my name written all over it! Everything else I'm wearing is thrifted/secondhand, and no – I don't think rust red on rust red on rust brown is too much at all!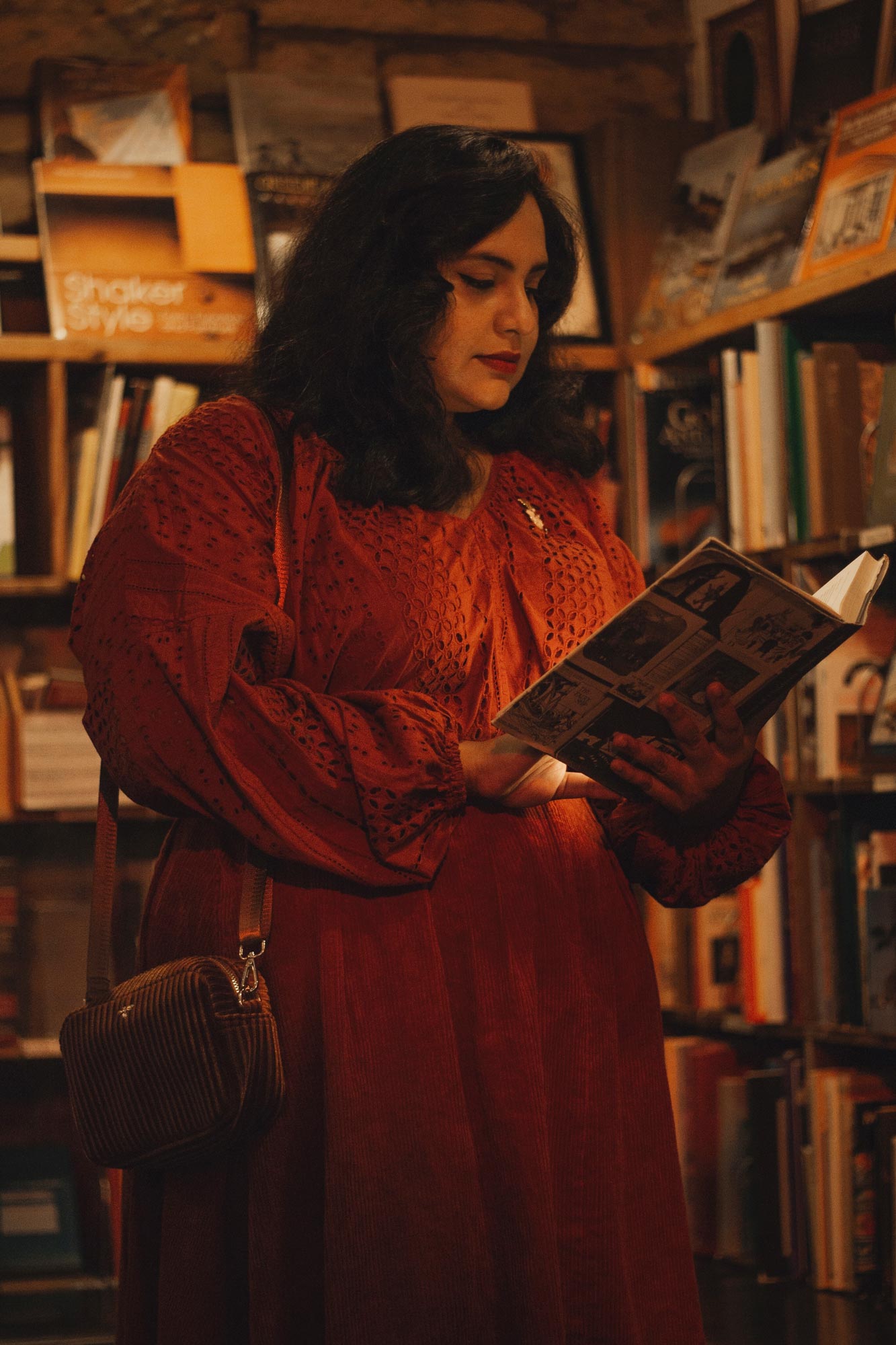 If you're visiting Alnwick, your trip just wouldn't be complete without a visit to Barter Books. It's open from 9am to 7pm every day of the year except Christmas day, and if you prefer a quieter browsing experience, 5-7pm is when the shop is emptiest. However, then you would miss the station buffet restaurant which would be a shame because their menu is as much of an ode to classic British comfort food as the bookshop is to all things, well, bookish. (My personal recommendation? The fish finger sandwich with the in house tartare sauce and triple cooked chips *chef's kiss*) And there's one more thing which you definitely already know Barter Books by, even though you haven't realised it yet! Have you ever seen one of those 'Keep Calm And Carry On' posters/t-shirts/cushions/mugs/million other objects with a million different variations on the phrase? Well, Barter Books is the place where the original set of three World War 2 posters were discovered, including the one which would go onto become the biggest British pop culture meme of this century. How is that for iconic?