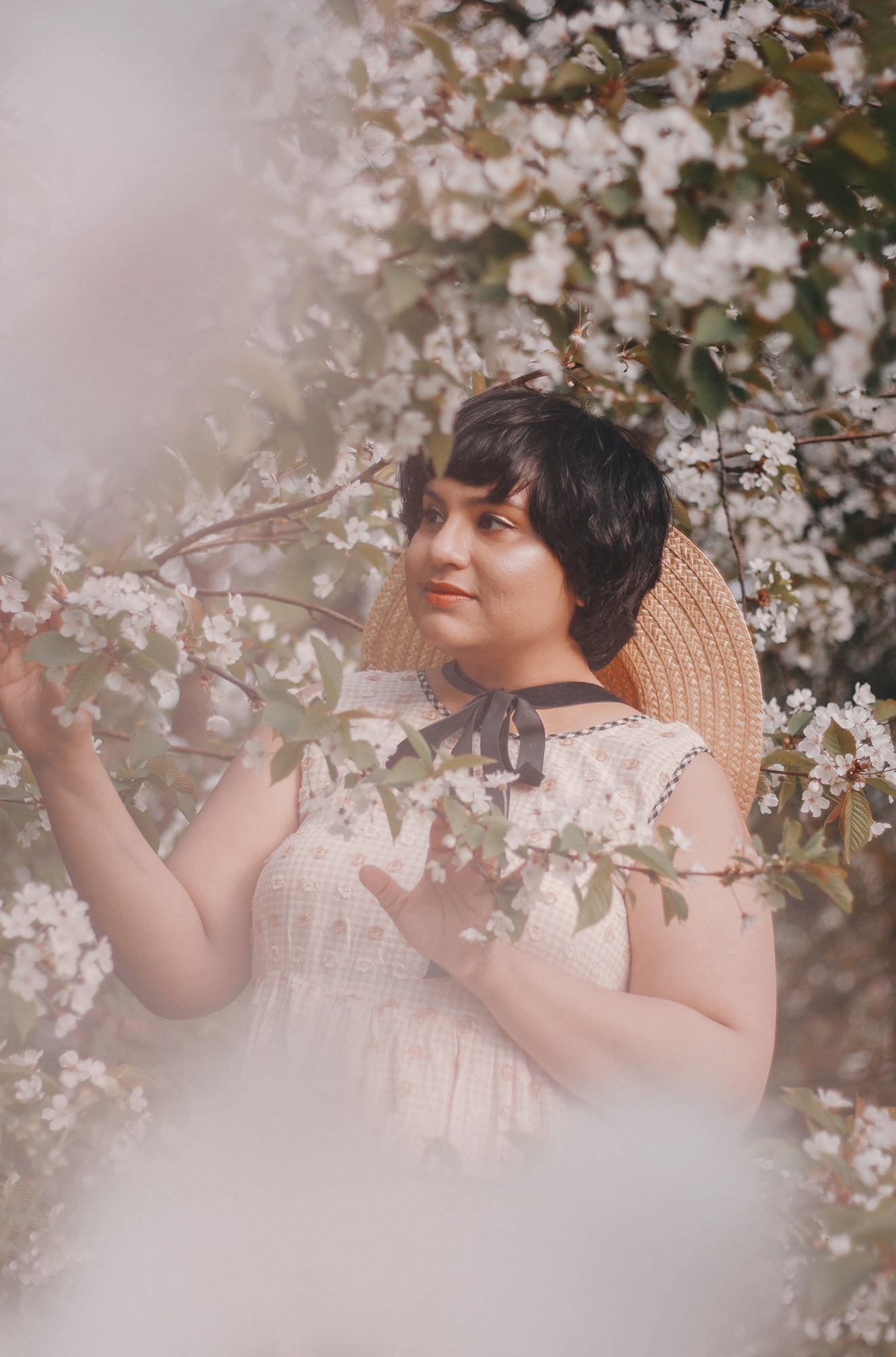 Wearing ✶ Teasdale dress gifted by Ace&Jig ✶ Straw boater hat ✶ B.A.I.T. Footwear saddle heels (similar here) ✶ Wicker basket

Every time I've left the house in the past two weeks and seen the bluebells in our front yeard, I've regretted missing out on my favourite spring blooms in the wild. But there are a few things you just can't do when you have a 10 month old to look after and there's no babysitting for her because there's a global pandemic and the whole world is under lockdown – and woodland adventures is one of them. We still managed to capture some cherry blossoms just around the corner though, so all is not lost!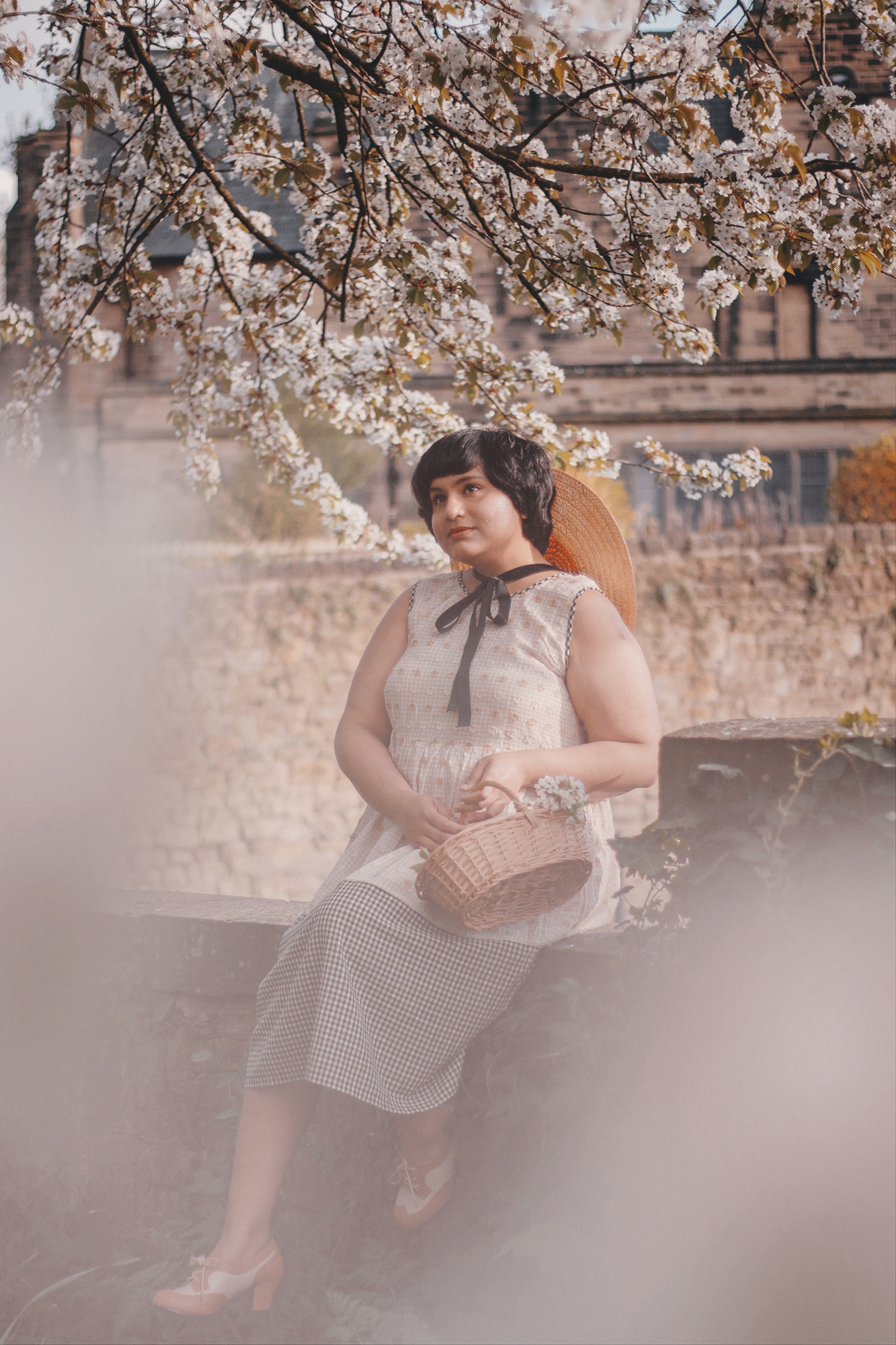 It feels incongruous blogging about fashion in such apocalyptic times that we'll hopefully (fingers and toes crossed) never see the like of again. I've left the house for a grand total of maybe five times since the lockdown was announced, and one of those times was when we took these photos. Owen does a round of the supermarkets once a week for groceries and Lila has been entertaining herself by taking giant leaps – quite literally – into moving around by herself and exploring all sorts of interesting corners around the flat. Everyone keeps talking about the new normal – sometimes it feels unsettling to think how quickly we all have settled into this housebound life. Or whether we'll ever be able to return to the old normal, the world as we knew it.
We hold on to whatever we can from our old lives, anything that creates the illusion of normalcy amidst reports of rising death tolls and PPE shortages. A glass of wine in the evening after Lila's tucked up in bed, Buffy/Angel marathons on Prime, and the ocassional photoshoot under pretty blooms in a pretty dress. We're exceptionally lucky to have places like this right next to us where we can shoot photos in relative solitude and at a safe distance from others. So while woodland adventures may be out, we can still explore hidden corners in our own little neighbourhood and bring you what hopefully is a little slice of escapism in these unprecedented times.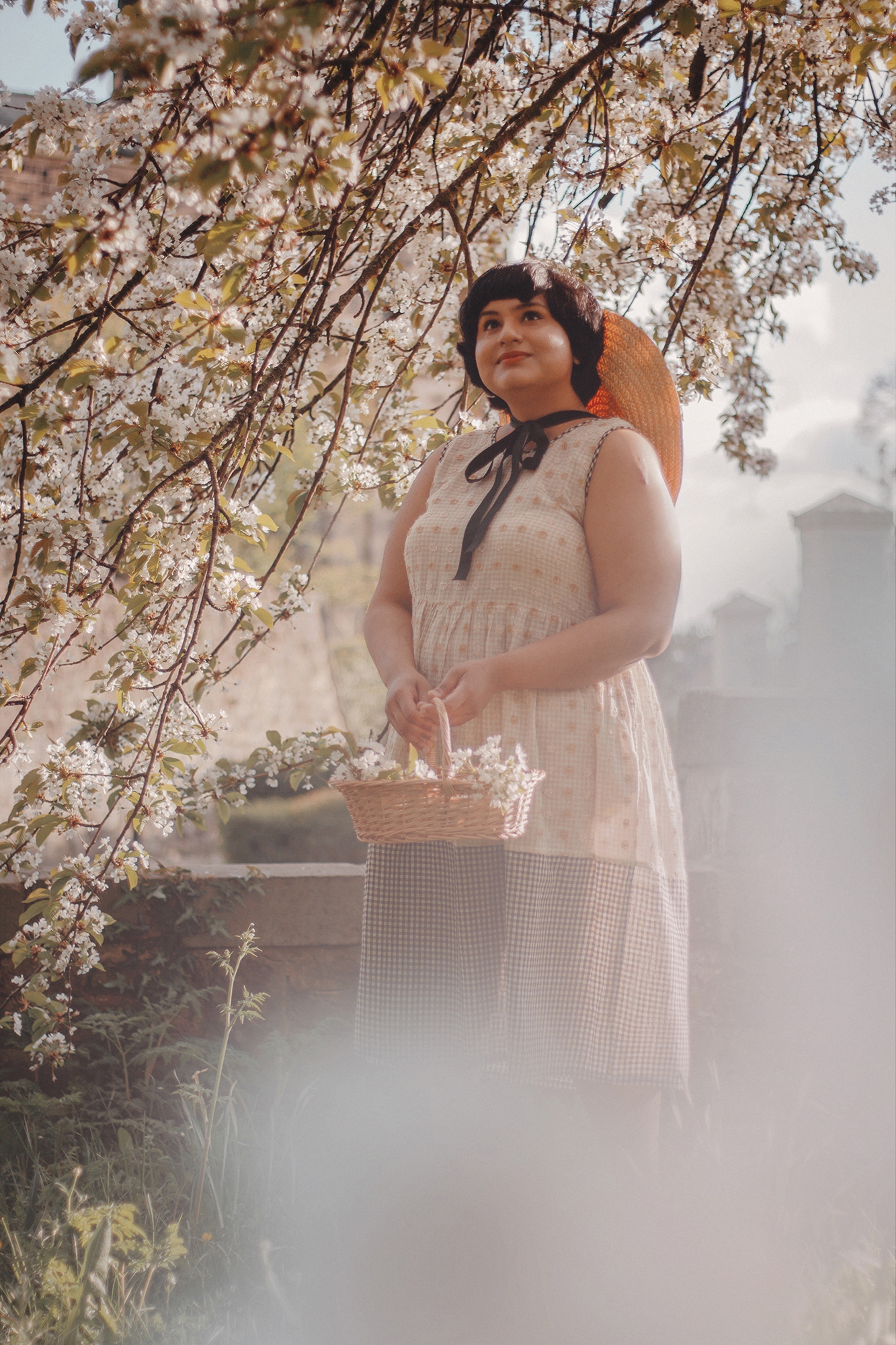 The dress I'm wearing is the Teasdale dress by Ace&Jig and was gifted to me from their Spring Summer collection. It's the perfect sundress for those scorching summer days that we've already had a few of in April. The fabric – Fitzroy – is so light and airy and just a little bit sheer, and the woven dots (traditionally known as booti in India where Ace&Jig fabrics are woven) perfectly echo the seasonal cherry blooms. The lockdown weight I've gained – which, by the way is a perfectly normal and natural thing no one neeeds to beat themselves up about, our bodies change as our lives do and we're all just trying to live through a global pandemic here, end rant – puts me more at a UK20 or even a small 22 than the 18 that I usually wear, and the 1X in Ace&Jig's sizing is still a good fit on me. I'm hoping for more magical, sun drenched days like we've had in the past week so I can break out all the floaty, dreamy sundresses this summer, even if it's just for a socially distanced walk around the block. In times like these, it's the little things that breathe meaning into our days and make the unprecedented just a bit more bearable.