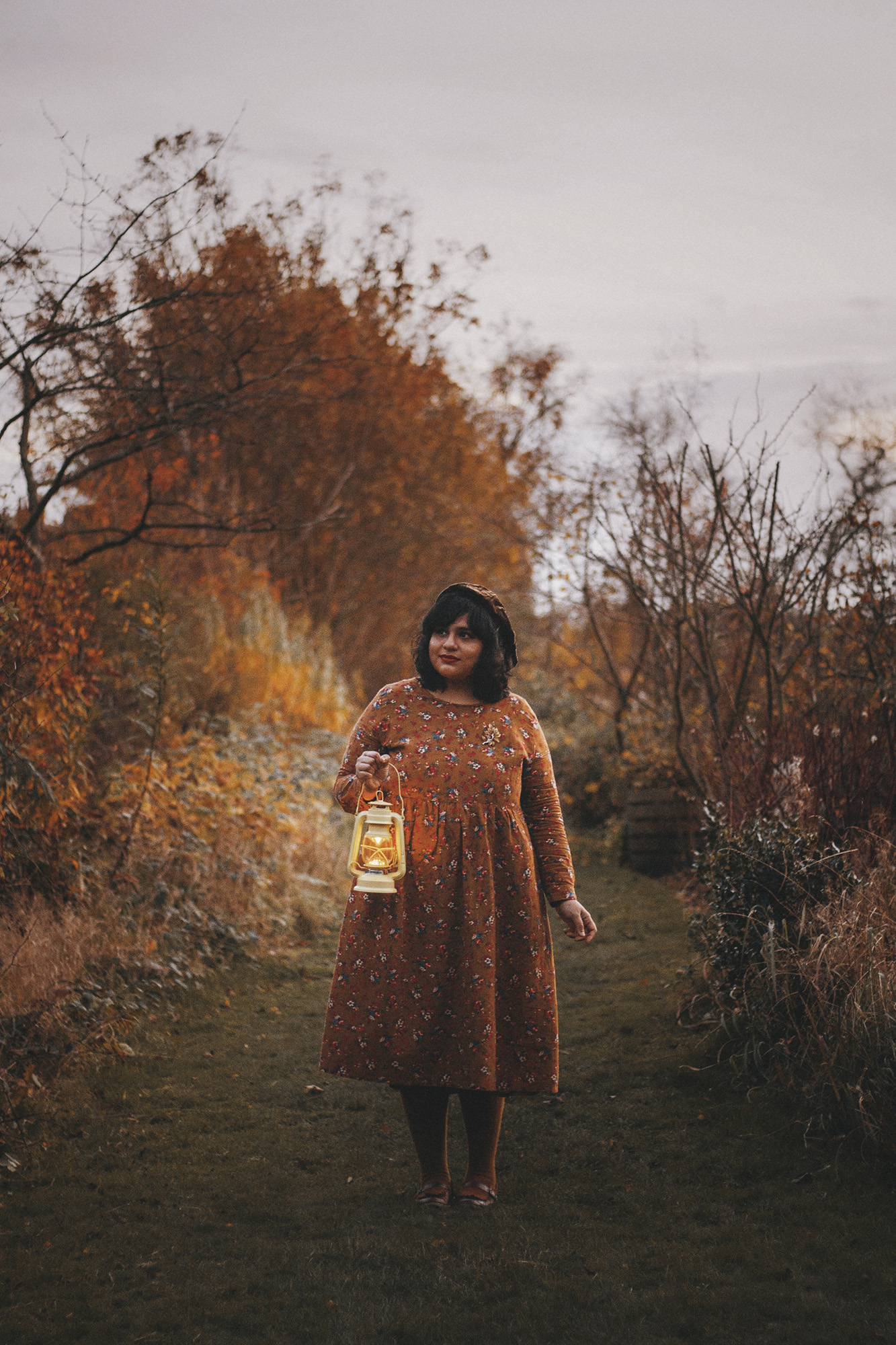 Wearing ✶ Zanzea autumn floral midi smock (Another similar style here) ✶ M&S Heatgen Plus thermal layering top ✶ Old Tabbisocks woolly cable tights (Similar here) ✶ Vintage enamel brooch ✶ Vintage velvet beret (Similar here) ✶ LED dimmable lantern

As November draws to a close, I must reluctantly bid goodbye to autumn. All the leaves have been blown off the trees now and trampled to mulch underfoot, but I was just in time to capture them in their final, most striking blaze of glory before the end. And dress up in all the autumnal colours as I did so.
If you're wondering how I managed to make it through a chilly November evening outdoors without a coat or even a jumper, the secret is my newest discovery – thermal layering tops. I bought this top earlier in the month to layer under dresses and blouses in cold weather and it's truly been a revelation. It keeps me warmer than a bunch of outer layers and I don't need to bundle up in cardigans and overcoats unless I want to. It must be a sign that I'm approaching my late thirties, seeing how excited I am about thermal underwear!
We're quite enjoying shooting in the wintry twilight hours with the help of my new lantern too – it lends such a cinematic vibe to photos, especially in the dark. I feel like this is the first autumn/winter since before I got pregnant that I've actually been able to devote time and energy to my art, and feel creatively fulfilled because of it. We've been shooting a lot this month, and filming a bit too, and I have so many outfits and ideas to share with you! In the meantime, I hope you enjoy what I feel is some of the best nature photography I've ever done (how modest!)