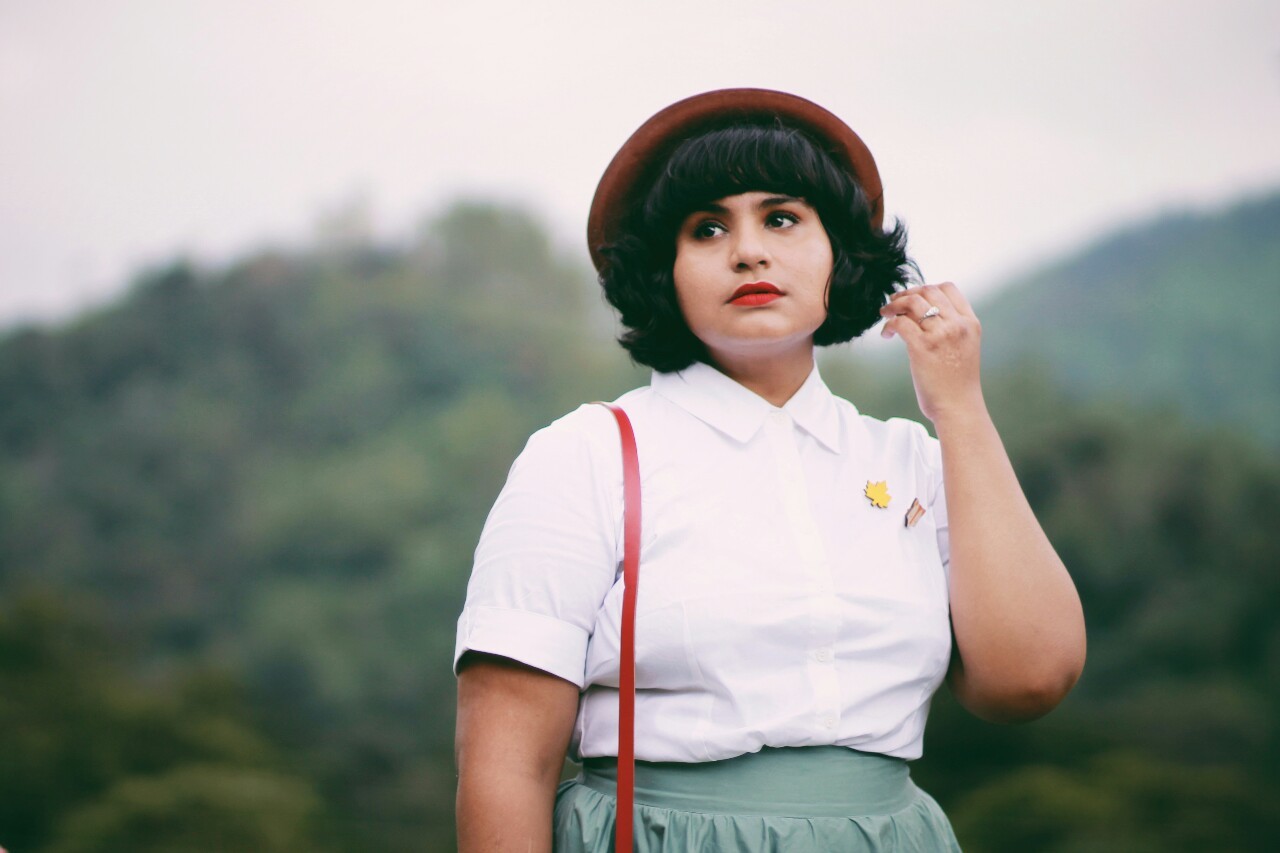 Munnar, Day 2: There's something about this weather that brings back an October of five years past. I slip into a dream, a cloud like those that settle on the mountaintops before drifting down to the valley. I spend today cushioned in a down of what-ifs. (What if I'd loved you then? What if we could go back to that Autumn?) Moosh is a pragmatic sort of individual. He prefers loving me in the here and now, he grounds me. He's the cool touch of the rainforest canopy to my inscrutable evening mist.
There's something about this weather that brings out the classic British style in me. I made your country the subject of my lifelong study, I tell him. Everything I ever worked towards was for this. I sought out your culture, I made a study of your people, your literature, your music, our mutual histories. Does that make you love me less? He holds my face in his hands, smiles and says, no, no it doesn't. So I dress in an uniform out of the books I grew up reading. I match my lipstick to my bag, and we go for a stroll. Moosh remarks that we could be walking down an English country lane. He's right. Some memories are so visceral, so powerful in their tug and flow that a part of you never ceases to live in them. I remember that first walk down the bike path that October in York. In my dreams the two lanes merge and we walk once more in the northern sun under which we first met.
I can't wait to marry this man and begin our life together. Make a home out of our love, revel in domesticity, wake up next to each other every morning and kiss each other goodnight. It'll be a while coming, though. Until then, we must meet only in the twilight roads of the hills and our dreams.
★         ★         ★        ★         ★         ★         ★
I wore:  ★  Shirt: c/o Unique Vintage  ★  Skirt: c/o Unique Vintage {Available here}  ★  Saddle Bag: Brit Stitch  ★  Brooches: The Twenty Fingers on Etsy   ★  Hat: Favourite Vintage Hat   ★  Woven Flats: ASOS {Similar on sale at 6pm, similar pair at ASOS}  ★   
Disclosure: this post contains affiliate links and I'll receive a small amount of compensation if you choose to buy anything through these links. Thank you for supporting my blog!  ♥