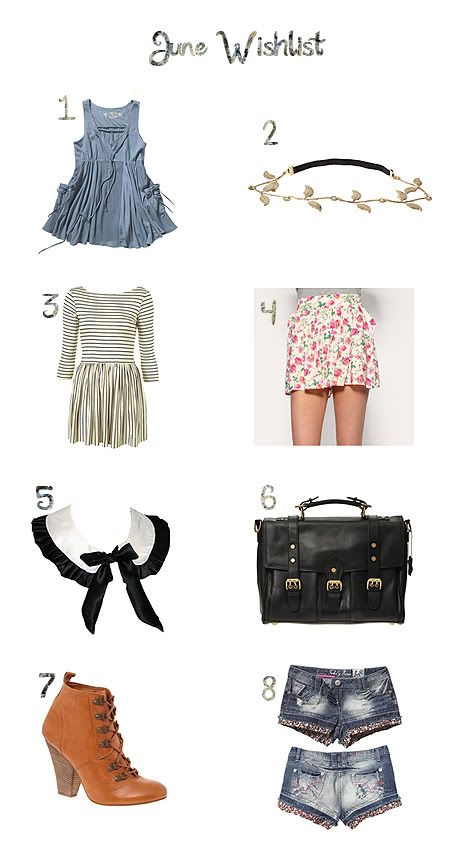 1. Jersey top by joe browns. it might not be long enough to wear as a dress but i love the idea of layering something just an inch or so longer underneath it.
2. lipsy headband. i seem to have developed a special recent fondness for headbands. the gold vines on this one are perfect.
3. topshop skater dress. i can see myself wearing this with either a vintage lace collar and a lace underskirt or a black fitted blazer and a beret.
4. floral shorts by dahlia. i would never have thought that i'd fit into dahlia until i bought a playsuit off them with every intention to return it and it fitted. floral shorts are one of my most coveted things this summer and this pair is perfection.
5. peter pan collar by loulou loves you. i adore everything by indie designer loulou loves you and this peter pan collar is no exception. i want this to pair with my most beloved black topshop playsuit.
6. warehouse satchel. if i buy one bag this summer it will be a satchel and this one by warehouse is exactly what i want.
7. asos ankle boots. these brown ankle boots are the perfect alternative to my pixie boots with one exception – heels! heels that look wearable too.
8. ditsy hotpants by joe browns. i have a deep, abiding and not so very secret fondness for the right pair of denim hotpants which these are. and a ditsy print frill too? yes yes yes!