Wearing ✶ Kiyonna lace wrap dress c/o Redrebs ✶ Happiness Boutique necklace ✶ Forever 21 clutch ✶ ASOS velvet heels
I'd recently talked about easing myself into wearing black again, a colour which was starkly absent in my wardrobe for close to a decade. And instead of tippy-toeing towards the waters of moody, witchy hues, I've taken the plunge into full head to toe black with this gorgeous little black dress from Redrebs. A new name in India's expanding plus size market, Redrebs is a one stop online store for luxury plus size fashion. Their focus is on elegant, opulent evening and resortwear for plus size women – something which has gone neglected in the Indian retail landscape so far. For today's look, I chose this black lace wrap dress from Redrebs' boutique range. And from the unboxing to actually wearing the dress out for an evening, it's been quite a different experience.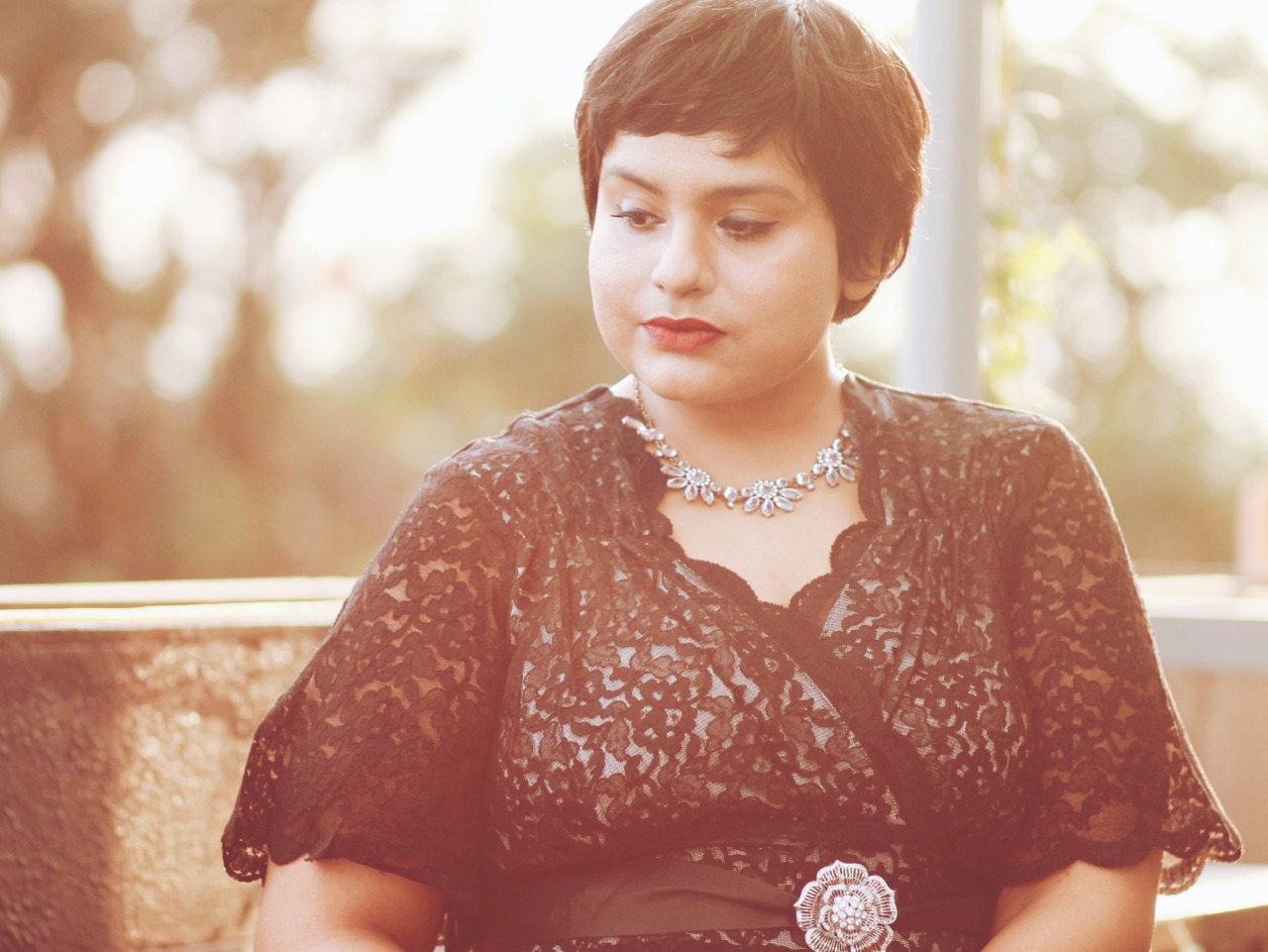 As a fat woman in India, I'm not used to feeling pampered and decadent when it comes to shopping for clothes. When I first opened the package, I wasn't quite expecting to be enveloped in a dream of blush and gold and lavender sachets! And even though it comes with the higher end price tag, these little details make for the kind of experience I'd want while shopping for an engagement dress or outfits for my bridesmaids (and yes, I do have rather a lot of wedding planning on my mind right now!) Something for a special occasion that makes me feel a little bit special too. As of now, Redrebs is in the process of expanding their range, so keep a lookout for more brands and sizes to be added to their website in the coming months!
I've spent the past six years griping about the utter desolation of plus size fashion in India, and I'm finally seeing changes in the way brands perceive us fat women as a demographic, especially in the past year or so. Maybe, there'll soon be a time when I'll just be able to walk into a store with the expectation of finding a whole bunch of cute clothes in my size. I look forward to that.