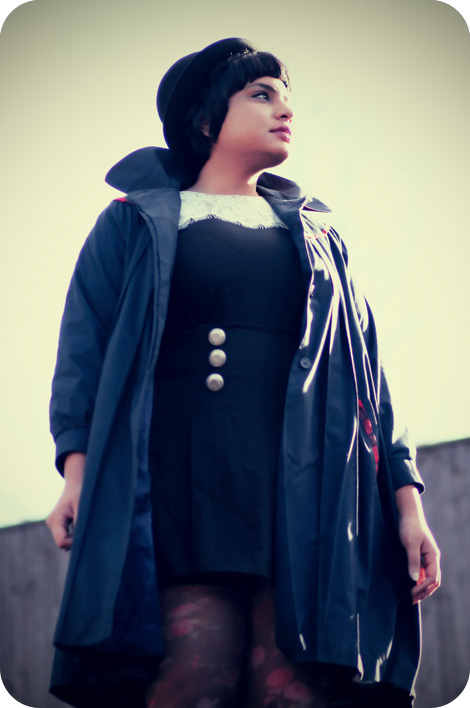 Or my Valentine's day outfit. i decided to steer away from the usual cliches of red and pink and stick to something that i love. enter my vintage rothschild coat. now from what google tells me, rothschild used to (and still) always make coats for children. i can occasionally find one on etsy in a child's or a very tiny adult's size but a vintage rothschild in a plus size? that's surely a creature from a medieval bestiary. i don't know how i ended up with one but this really is a vintage rothschild coat in a size 18 or so! i bought this in 2004 when i had no idea of the rarity of it, along with a fair bit of vintage stuff, most of which i never wore. not much of it is extant now (also because it doesn't fit me now) but this coat and a pair of equestrian boots (which are still back home) are two of the most prized items in my wardrobe.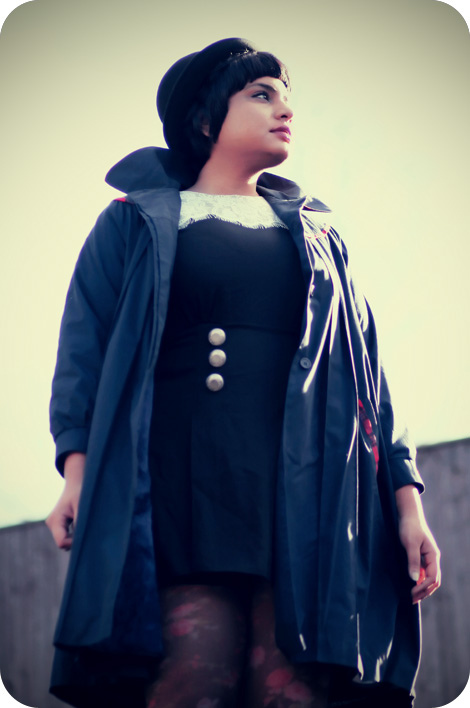 i think this outfit feels very like a cross between something victorian and something depression – era. i feel like the offspring of victorian and depression-era time travellers who somehow got together and produced a child before they died in a bizarre time travelling accident and left her the legacy of a huge trunk of the most beautiful clothing. the orphan theme is exaggerated by the child's coat and also by the fact that that i am currently studying a lot of victorian children's literature at university. being able to look at the books i read as a kid in an academic light has been fascinating and has served to push my dressing into the realms of the utterly absurd. my coat and bowler hat got quite a few stares as i wore this while travelling from york to cambridge to see my boyfriend and the next day too when i wore this to take pictures of!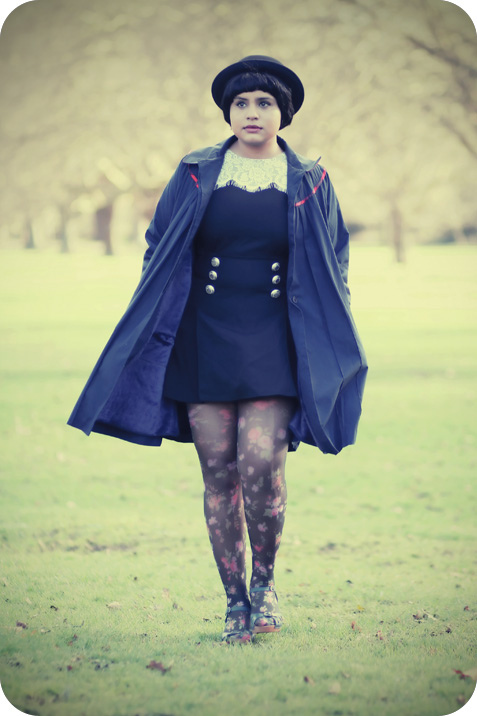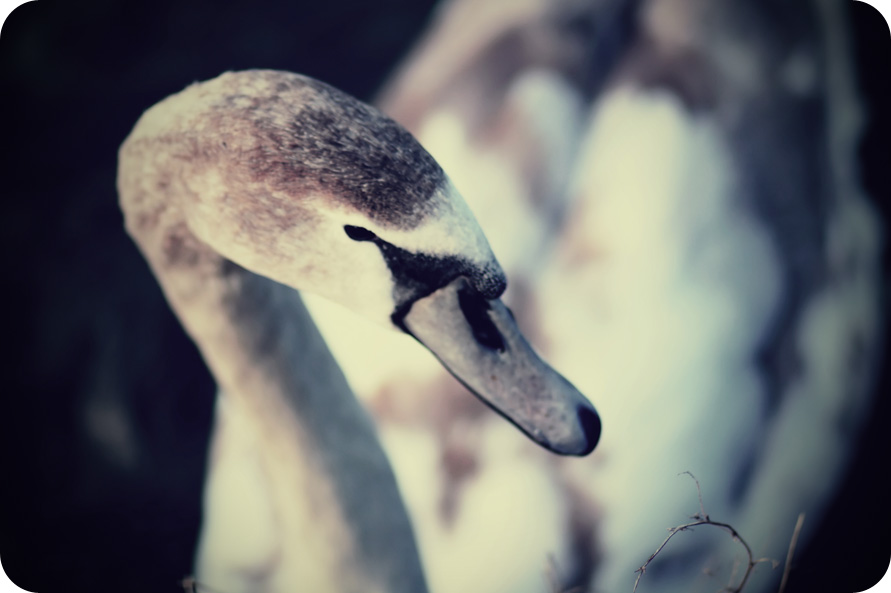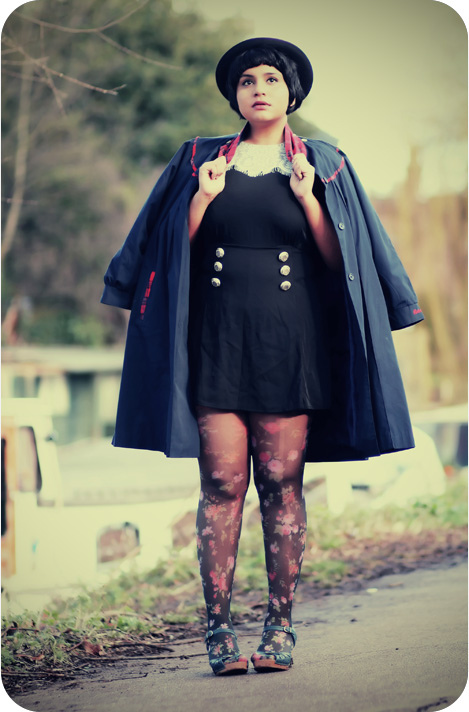 the playsuit is dahlia and i bought it at a time i was convinced that i would never fit into dahlia since they only go upto a 14. i bought this with every intention of returning it – since it was from asos and they had a super easy international returns policy, i just wanted to take the chance, slim though it might have been. but then it did fit! on my body but the arms were way too tight. as you can see the arms are still too tight but it is wearable now. i'm glad! this is one of the loveliest things i own.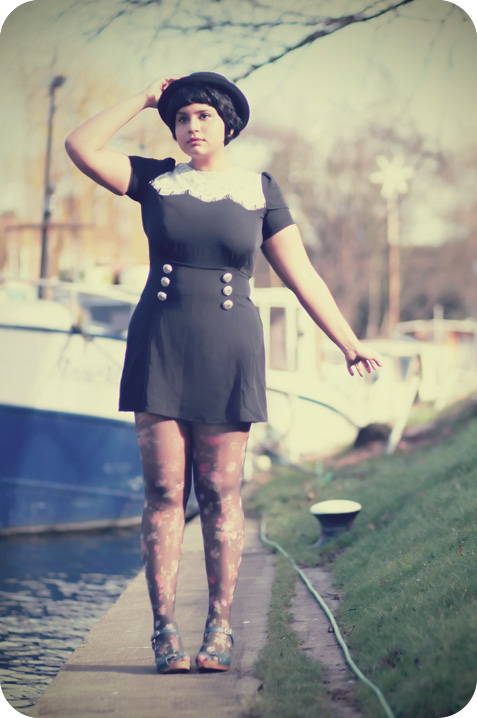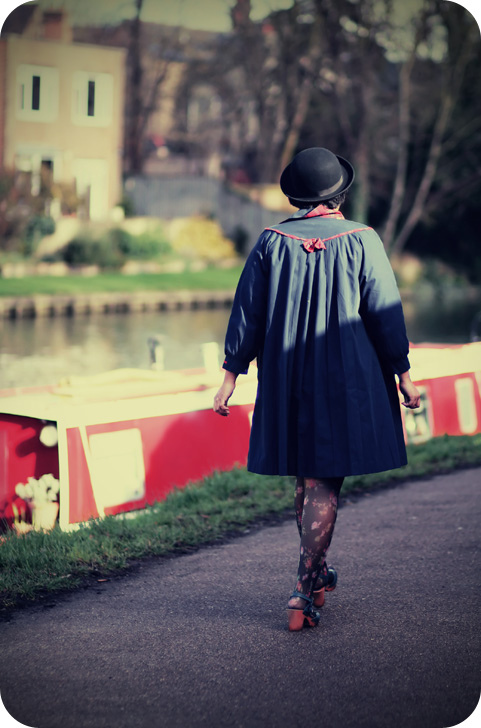 i love the buttons on the playsuit. aren't they gorgeous?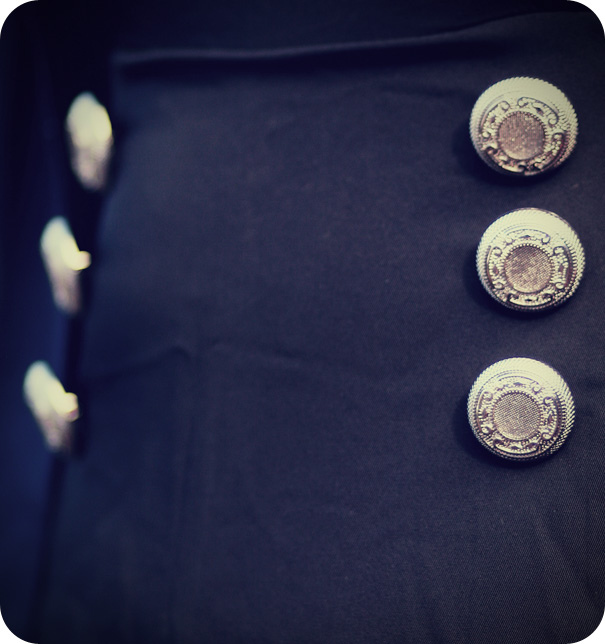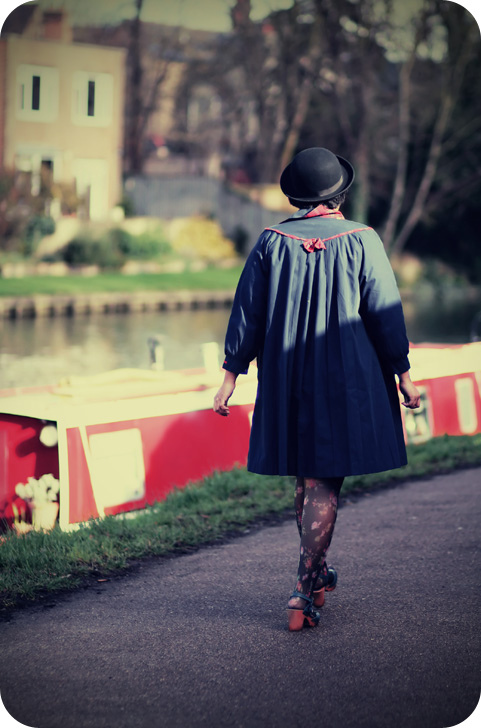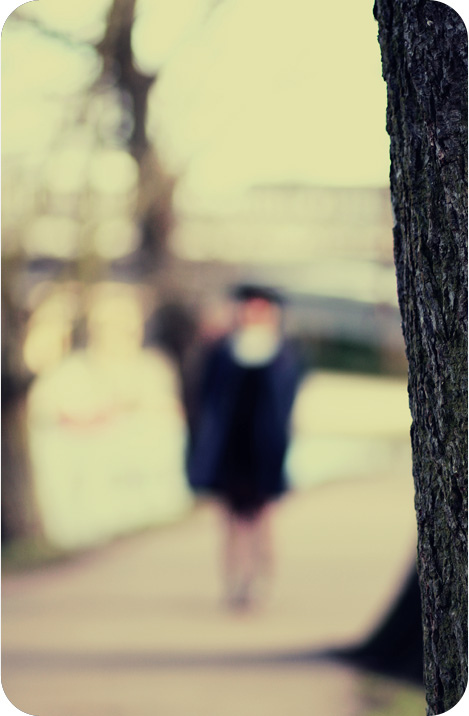 the lace on the front is exquisite too. i have wanted a bowler for so long now and i had my eye on one at asos which was about 30 quid, i think. imagine my excitement when i saw this on sale at accessorize for 6 quid or so! ofcourse it had to be mine.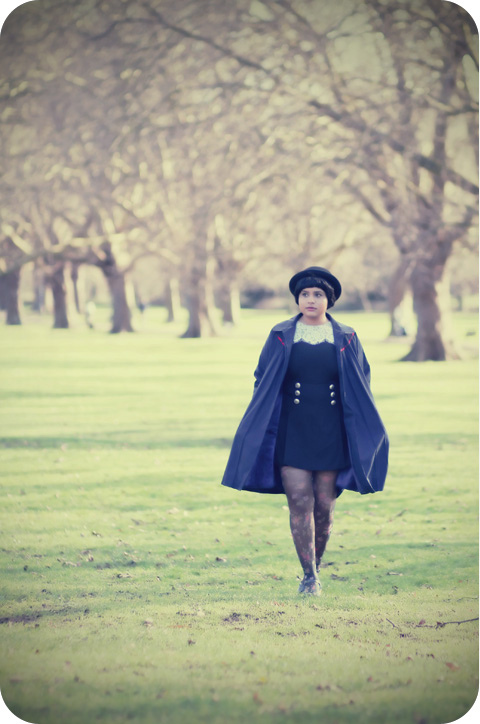 the rothschild logo! this coat actually came with the tag attached too, so i'm guessing it is deadstock. i should probably treat it better! it is my to-go coat when i need to put something on top of my boxers and cardi to go to the cornershop to get fags.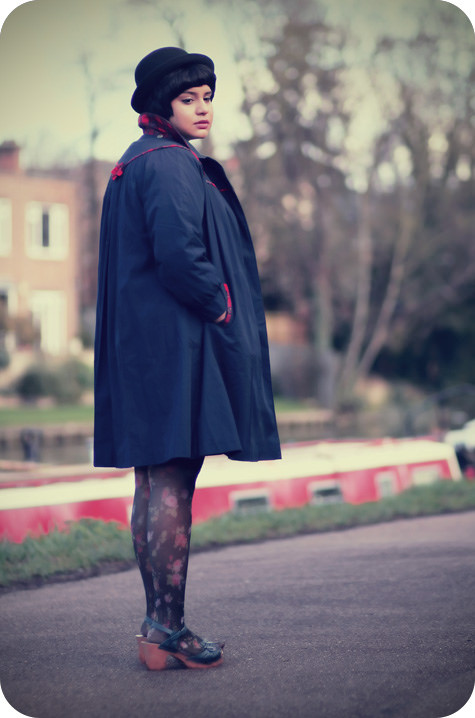 aaaand i got river mud on my new clogs! (20 quid on sale from office, yeah!) oh, and the tights were destroyed after one day's wear. destroyed utterly. worst buy ever.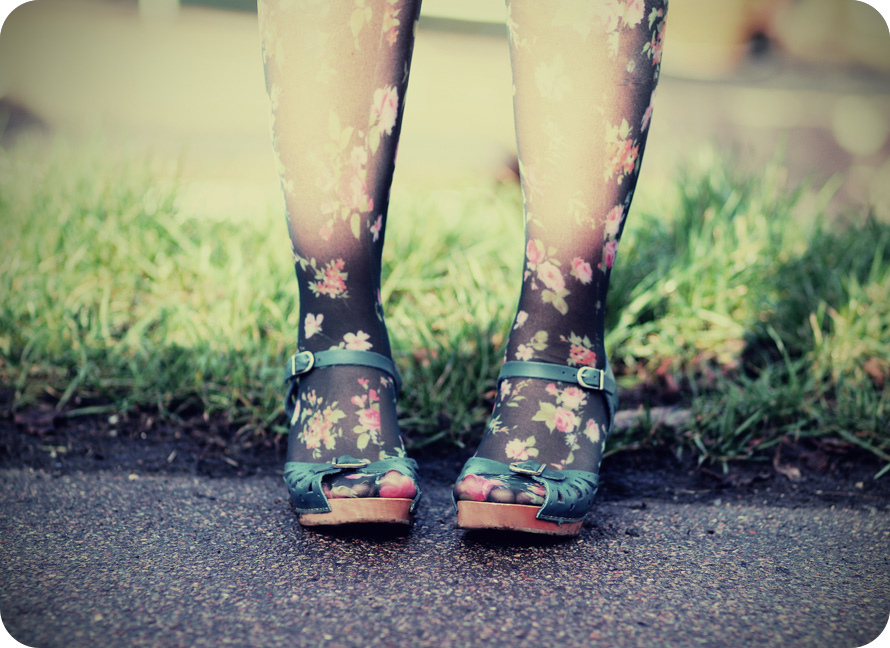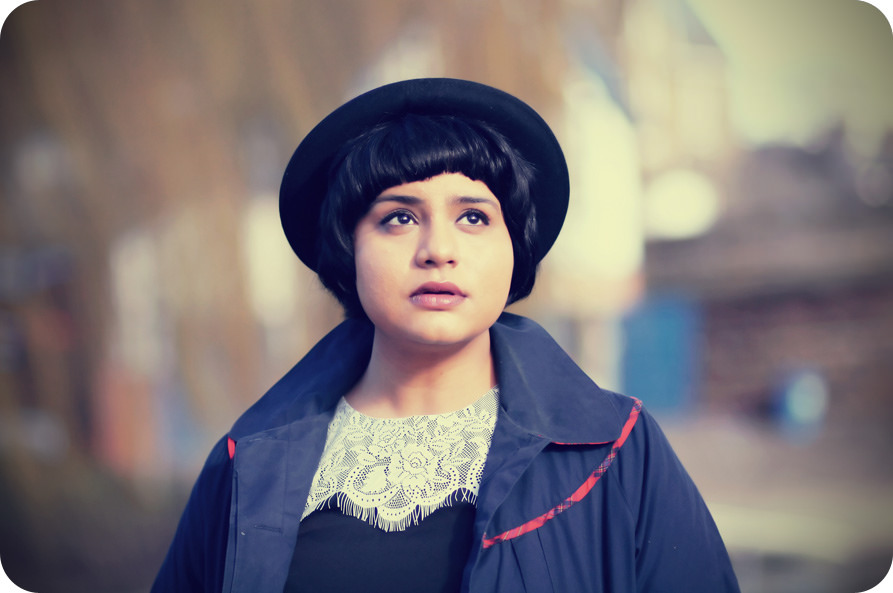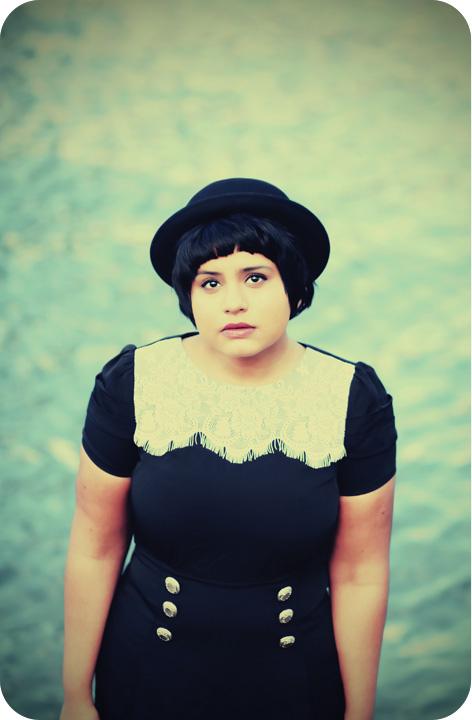 coat – rothschild (vintage)
playsuit – dahlia
tights -asos
clog sandals -office
bowler – accessorize