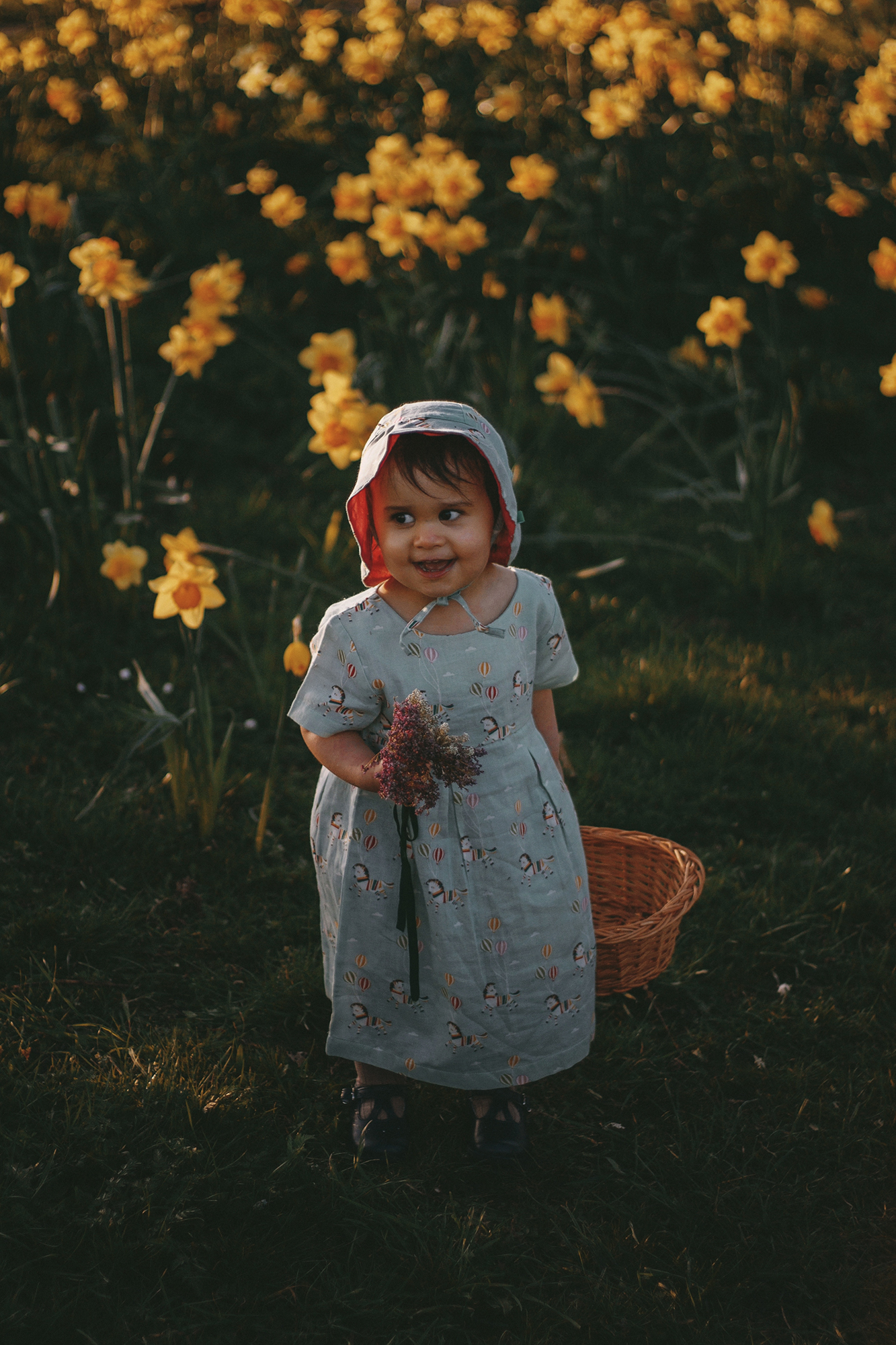 I'm wearing ✶ New Look shirred maxi dress (available in plus in lilac gingham and black) ✶ Old ASOS sandals (not pictured)
Lila is wearing ✶ Wild Horses dress and sun hat c/o Little Green Radicals ✶ Start Rite shoes ✶ H&M knee socks
This post is all about celebrating the joys of a good outfit – or outfits! – and exploring an unexpected riot of daffodils on a spring evening. Snatching Simple Joys from the belly of a bustling life. From shaky starts, these spring evening shoots with Lila have grown into a much loved oasis of family time together in the admittedly modest and not so rugged outdoors (we shot these photos next to a roundabout on one end of the town moor!) And then I think about how lucky we are to have the town moor and jesmond dene right here in the middle of Newcastle and feel sad about most likely moving away from the city come autumn, even though it'll be to somewhere a lot more rural. Considering we're looking at County Durham and Northumberland (unless it ends up being the coast!)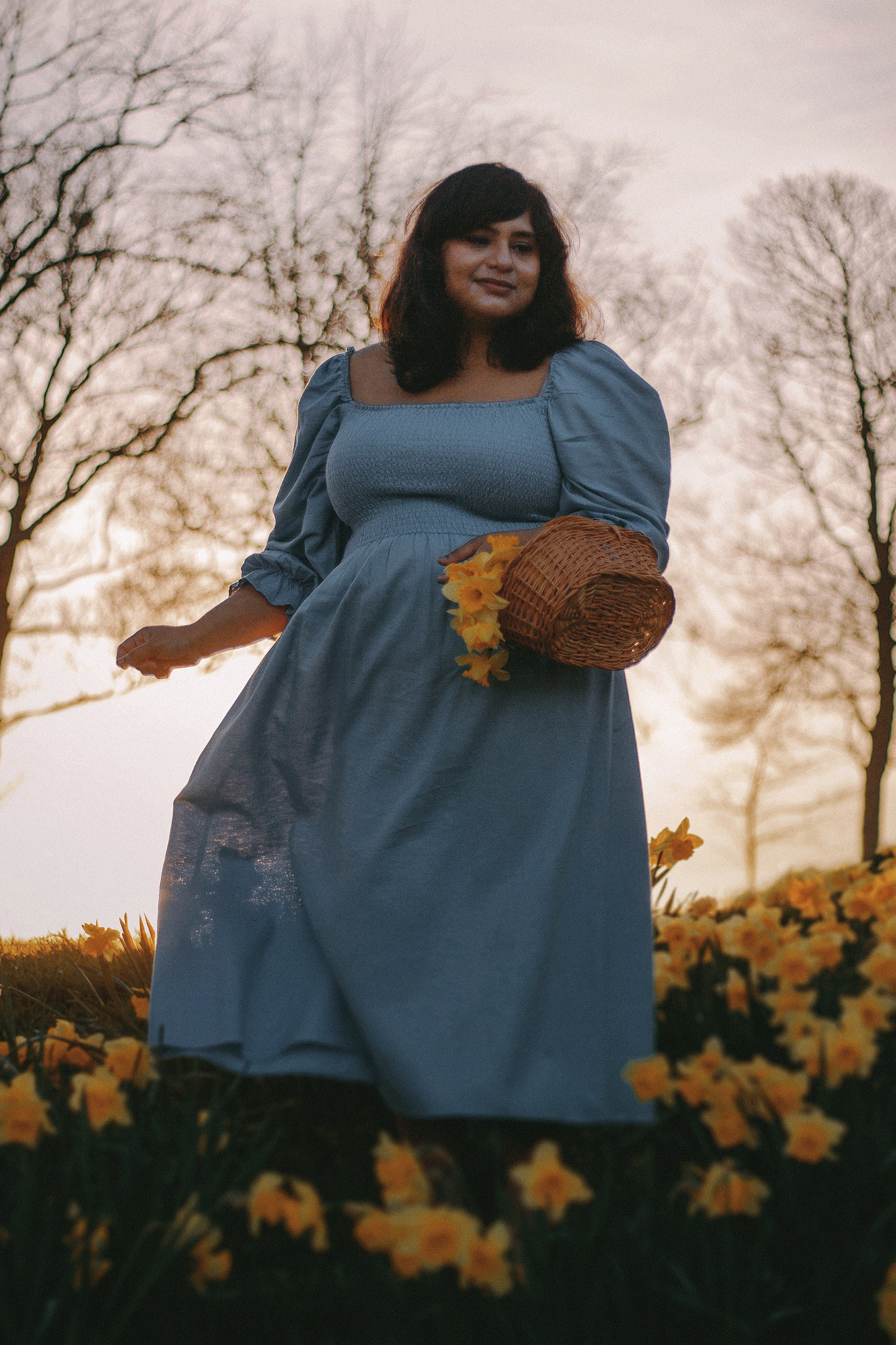 There's something so atmospheric and ethereal about a blue dress in a field of daffodils, so I decided to multiply that by two and dress Lila in her new Little Green Radicals set as well! Little Green Radicals has been one of my favourite children's brands, not only are they fair trade but their clothes are made sustainability and ethically in Calcutta of all places, and that just makes it a little slice of home and fills my heart with joy to dress my daughter in their clothes. Last year, Lila's birthday and Christmas dresses were both from LGR, so when they offered to send her a few pieces from their Spring/Summer collection, I of course said yes!
My dress is one of my new favourite buys this Spring – it's the perfect cottagecore milkmaid style dress and what's more, the fabric is a mid weight cotton-viscose-linen blend which is just so lovely on. Last summer, I gained about a dress size during the first lockdown and was put in the unenviable position of having to source a functioning autumn wardrobe in my new size. This year I'm doing the same with my spring wardrobe, selling a lot of what no longer fits to make enough room in my closet (and my purse!) for a few new pieces that'll see me through till autumn. And while I wish I could afford a whole new capsule wardrobe of nothing but ethical, sustainable clothing, at best I could probably only afford a couple of pieces made to those standards – which will definitely not see me through till autumn!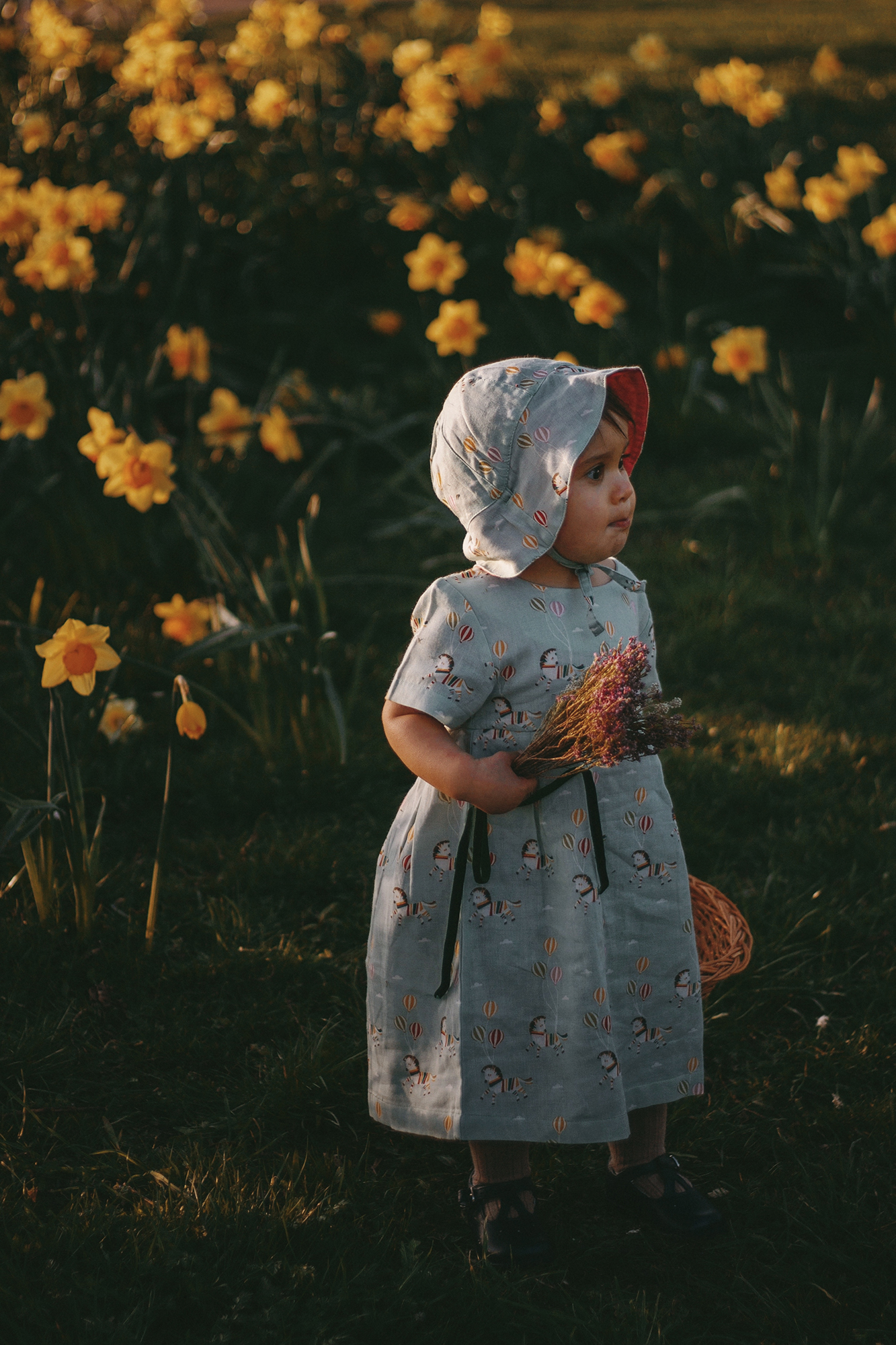 I'm lucky that as an 'influencer' I'm sometimes offered clothing by ethical, sustainable brands whose pieces I treasure in my wardrobe, and that financially we *are* in a position where I can make the more ethical choice about a third of the time. This is obviously not one of those choices. What it is though is a genuinely beautiful dress in a style that's hard to find in plus sizes and which, being made of natural fibres and a heavier fabric, will last many, many wears if I take good care of it, wash it gently and mend it when it needs mending. I'm the last person who'll shame someone for not picking the ethical option because a) I'm very much the opposite of perfect in that regard and b) I know what it's like to only be able to afford the cheapest, fastest fashion and then try my best to make those clothes last far beyond their intended lifespan.
Most of my clothes are still secondhand from eBay and closet sales (my friend Marie's closet sales, to be precise!) and for the longest time I did have the luxury of just adding a thing or two to my wardrobe once in a while because my body decided to be comfortable at a size 18 for the best part of 6 years. Starting a size 22 wardrobe more or less from scratch though – that's a whole new animal altogether! Writing this post also made me think of all the things I do to get years of wear from every single item of clothing I buy, even when that is an item of fast fashion. Is that something you'd like to read about? Let me know by leaving a comment!