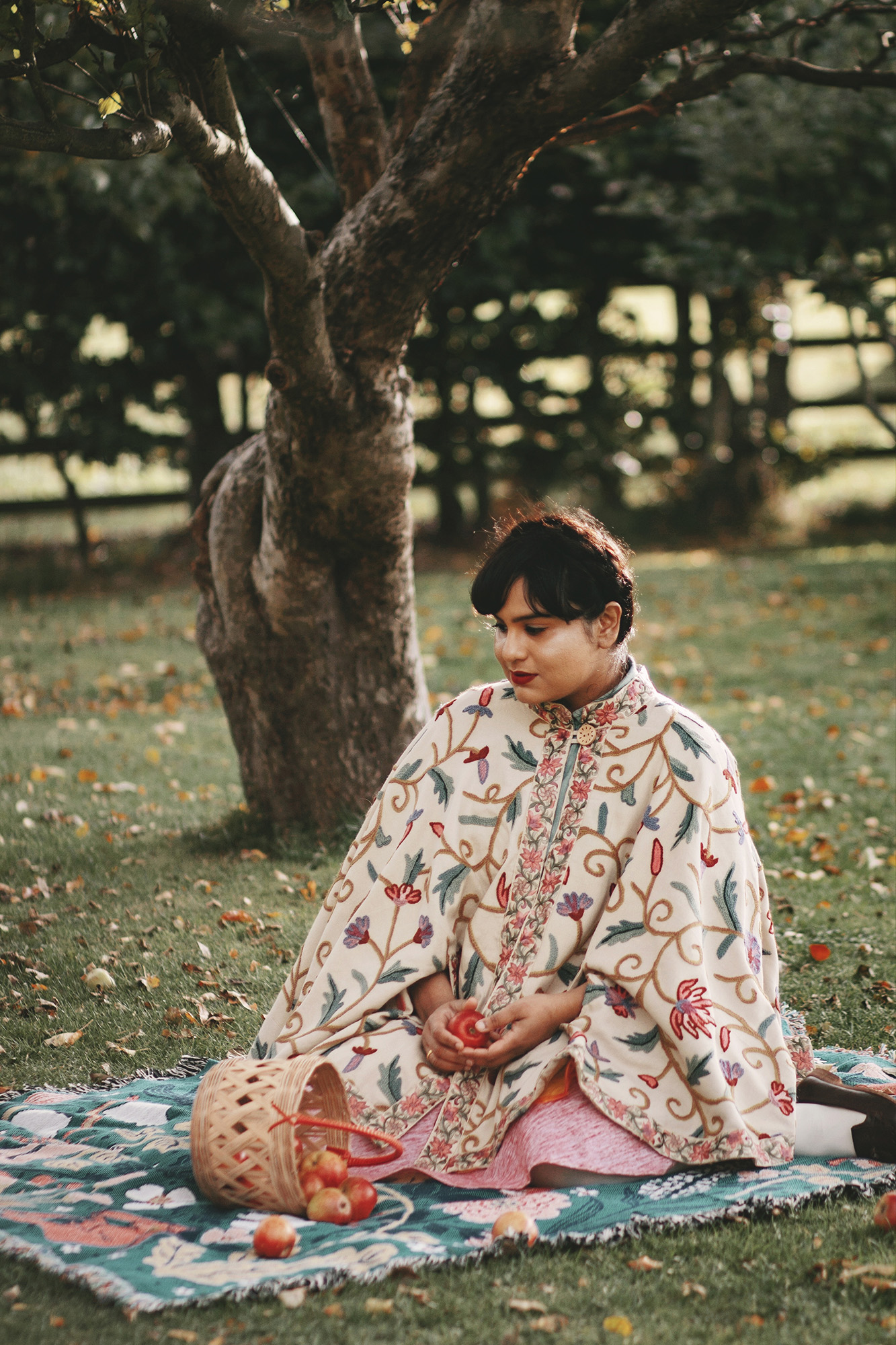 Wearing ✶ Bespoke blouse, cape and skirt made by my tailor in Bangalore ✶ Old ebay tights ✶ Topshop loafers ✶ Handmade basket from Bangalore ✶ Bloom tapestry gifted by the artist, Phoebe Wahl
In the autumn of 2018, Owen and I went to Wheelbirks and took some photos in the orchard right at the end of apple picking season. Lila was either a tiny ball of cells in my womb or just about to be conceived – we'd only find out about her a few weeks later (on the day of this shoot, incidentally!) As my pregnancy sickness caught up with me, these apple picking photos languished in my hard drive, for weeks at first and then months, until they were eventually forgotten. Then covid threw a spanner into our orchard shoot early last month when we had to cancel all our plans and instead hunt down tests for our poorly, flu-ey family. Thankfully we all tested negative but by the time we'd all recovered from the flu, apple season was over. And then I remembered these – photos from two autumns ago in my favourite handmade cape which never saw the light of the day.
When I see these photos now, all I can think of is how things have changed since Lila. Two years ago we made a baby, but in those two years she's made parents of us. There are parts of myself I've lost to motherhood, even as motherhood has nurtured a whole new side of me – the person who always has to think of someone else first, no matter how late it is, how exhausted I am, how much I long for a break from it all. At the same time, I can't fathom spending more than a few hours without Lila – the pain of separation is very, very real. The longest I've been without her was the time last September when she was in the hospital with her water infection and I'd spent three days and nights sitting at her bedside until I started hallucinating from the lack of sleep and Owen drove me back to the flat and took over from me.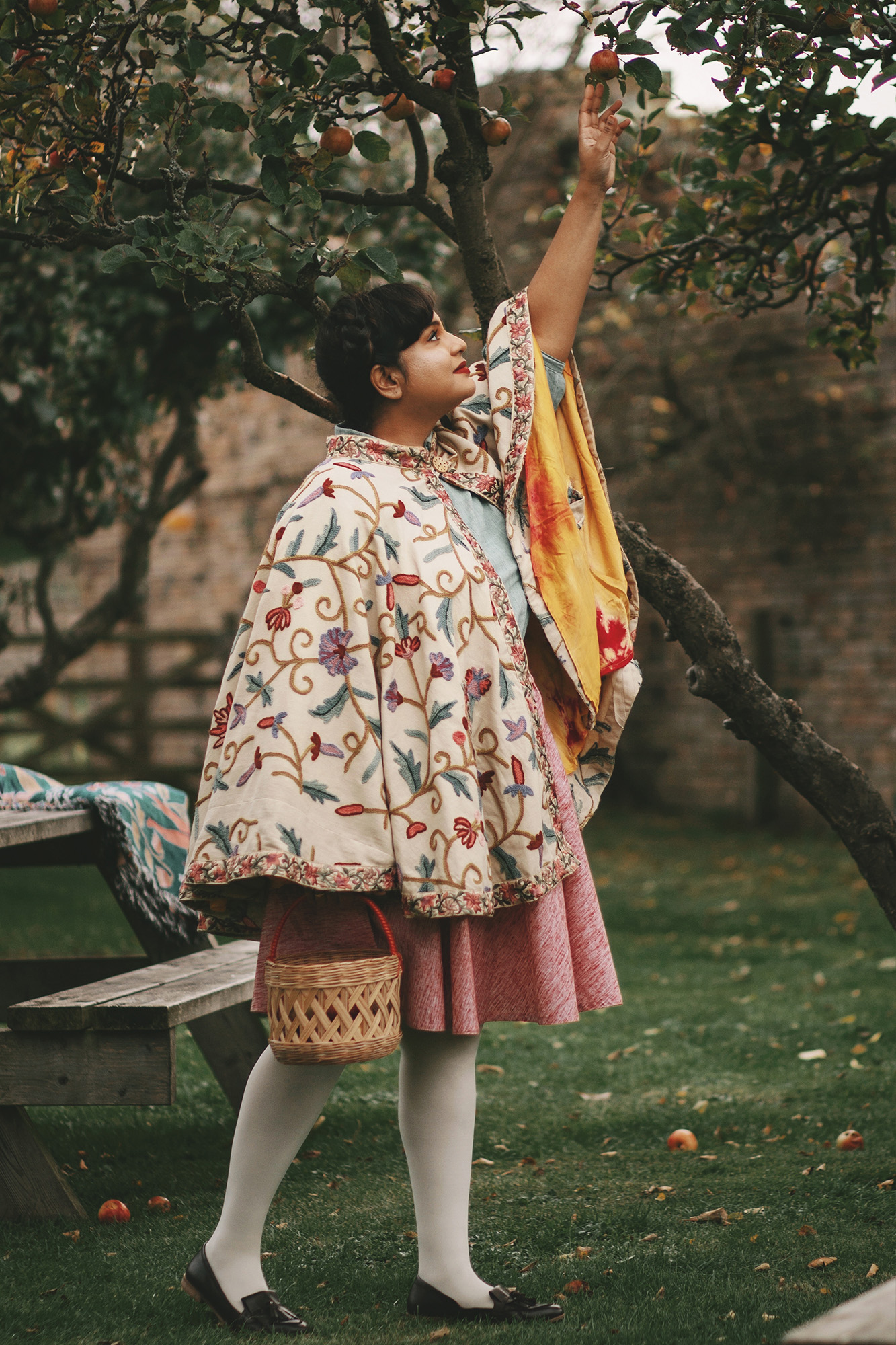 Before Lila, I never believed that a smile from the right person could fix everything. Now she proves that to me every single day. I never thought I'd be able to treat someone with complete and unwavering tenderness – until I held her in my arms. She draws out that person from within me who's capable of doing better even after failing. Bit by bit, she's teaching me patience, the value of taking time out in a busy day to gather myself and breathe. The highlight of my day is when I can sit down on the mat and play with her, forgetting everything else. I know it sounds kind of sad when I phrase it like that, but it's the only time I can push out all my worries out of my head and discover long forgotten joys anew. Turns out, I still love playing with building blocks and toy cars.
I say all this knowing that it's been a difficult, uphill climb, and there are so many days when I can only see the struggle and these moments are almost lost to me. I've talked about the hard bits often enough, especially on my Instagram – this blog post is a way of reminding me what I've gained. There's never been anything else like parenthood, there's never been anyone else like Lila. She changed everything, took our lives and made them her own and despite the exasperation and messiness and tantrums and complete lack of personal time, we are grateful. Because our lives have meaning now. The day we took these photos, our lives were still incomplete because we didn't know about Lila yet. We were wandering and drifting, squeezing joy out of things that no longer mattered. We had all the time in the world and it was all empty. We were standing at the cusp of change, unsure about what lay ahead. I'm so grateful we took that leap.