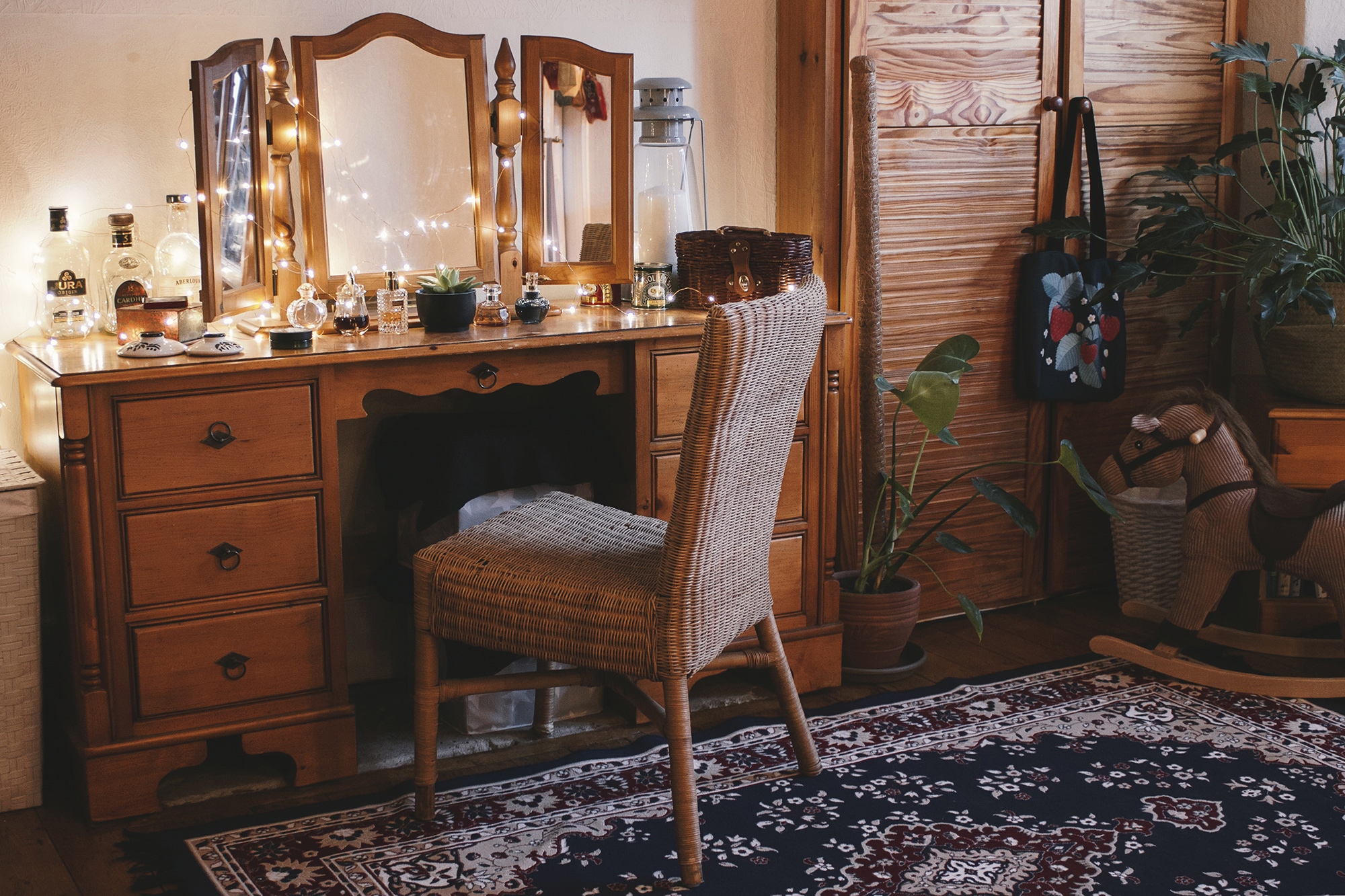 Disclaimer: This post is sponsored by Redbubble and I've been compensated for it. All opinions are however entirely mine.
Our bedroom-slash-baby-room has been so long in the making that it's almost embarrassing! If you've read my post on Lila's birth story, you'll know that we only managed to set everything up and move in less than a week before she arrived! I'd been meaning to do a bedroom tour ever since then (remember the living room tour? That was more than a year ago, welp) except being a new parent tossed those intentions out of the window for months.
So when Redbubble asked me to be part of their new product launch campaign, I figured it was the perfect opportunity to add a few last finishing touches to our bedroom with bits from the new drop, and do a little tour!
PS: Get 15% off all Redbubble products with my code RBC-NP-kittehinfurs, valid till the end of November!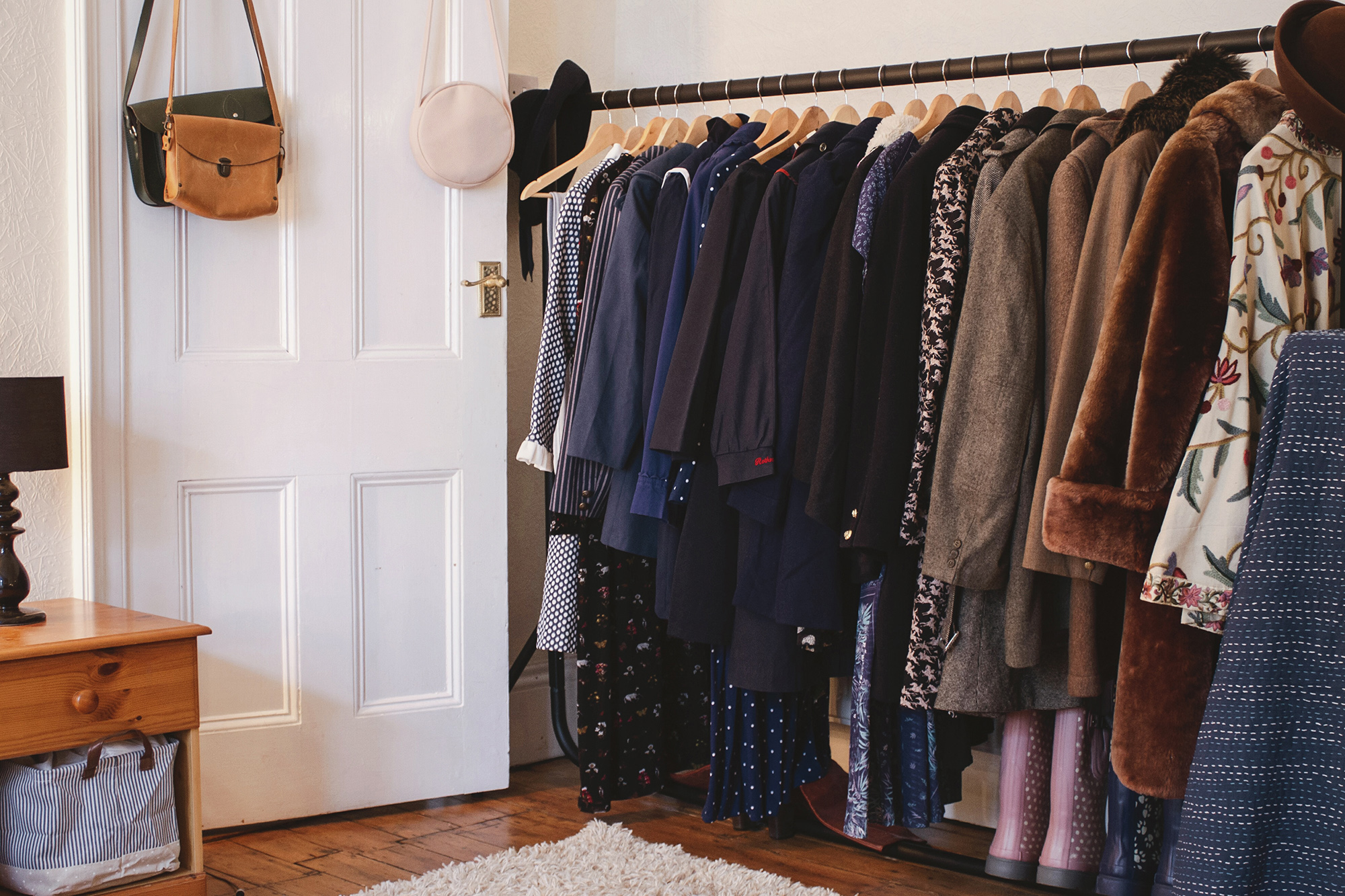 Beginning at the doorway, the clothes rail is the first thing you'll see. It took me ages to get it looking this tidy, and only after I hit upon the idea of popping a selection of colour coordinated coats on it rather than the higgeldy piggeldy mess of my everyday wardrobe in all the colours of the rainbow! We've also had to play an extremely high level of room tetris to fit everything inside this room, and the battle with the clothes rail and the door is one we've had to concede. It's just a lucky coincidence that we always need to keep the door ajar anyway because of babby sleeping in here!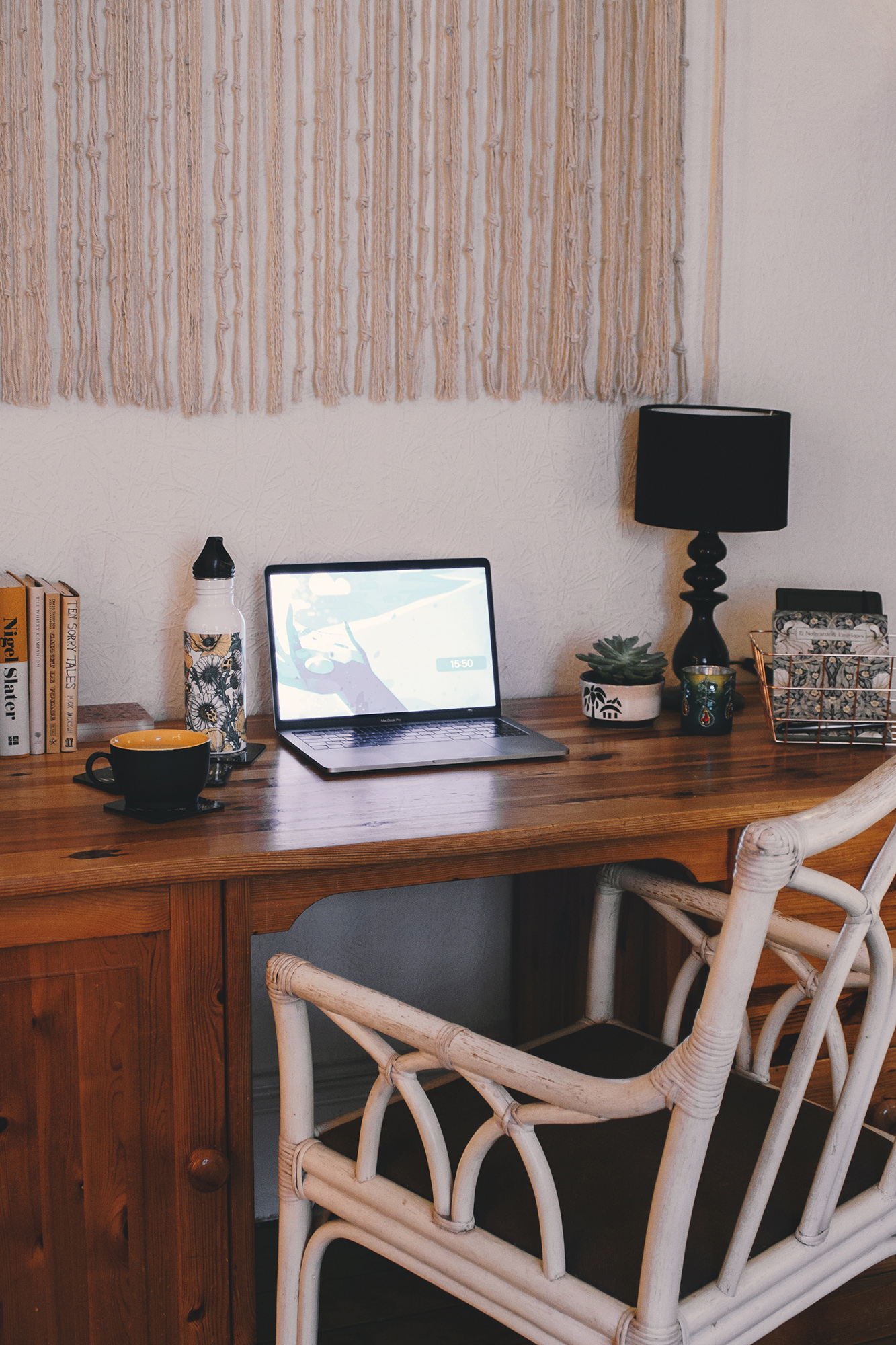 Owen's little workspace with the desk he's had since he was 14. It's not usually this tidy and I totally admit to having prettied it up for photos. He loves it though, so it's all good!
Owen's spruced up guitar with Redbubble vinyl stickers.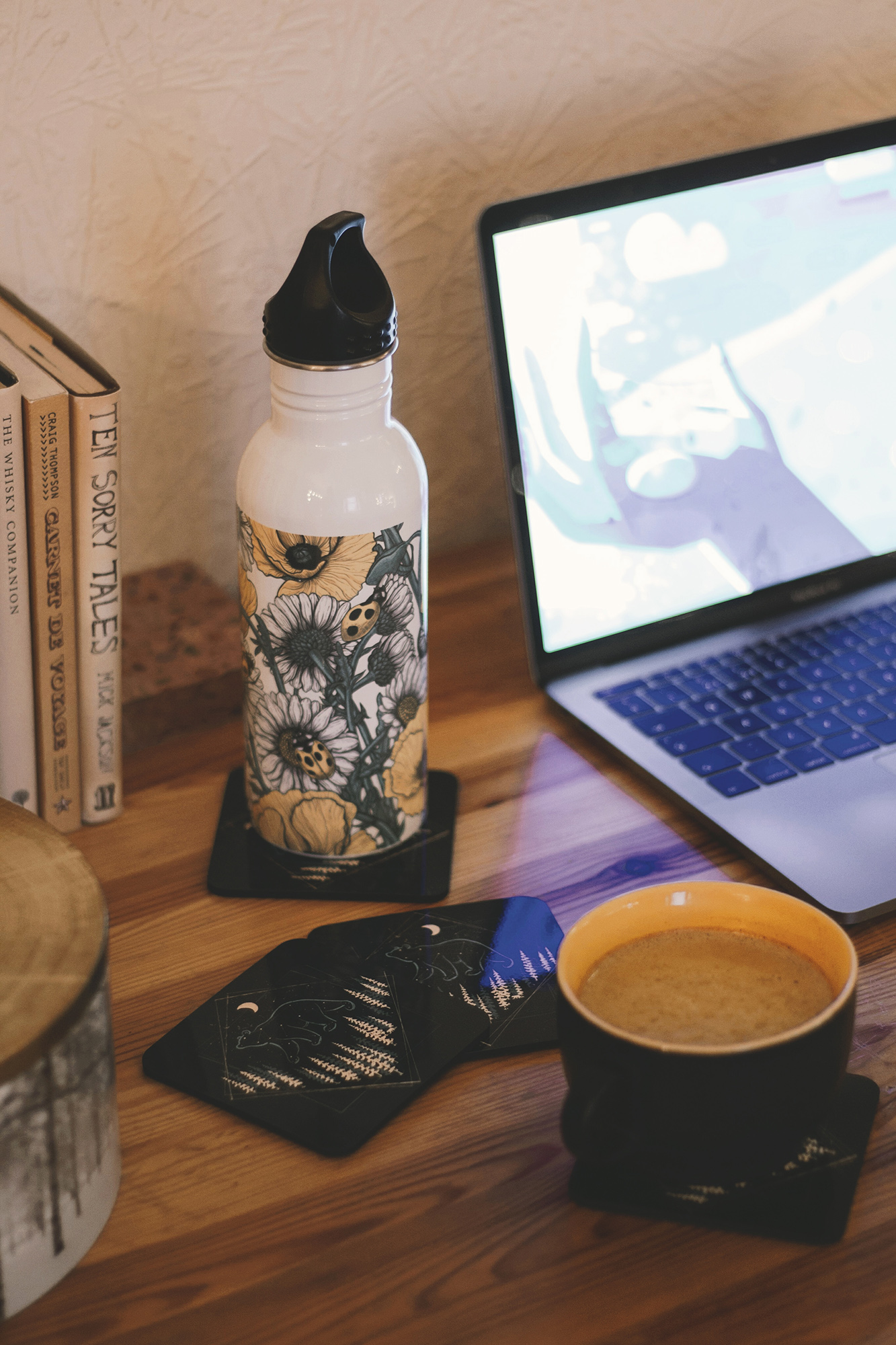 We've been using these Redbubble steel water bottles ever since they arrived. I'm so impressed with the quality – they get rinsed every day with the dishes and there's still not a scratch on them, plus they're really good at keeping cold water cold. The coasters are also part of Redbubble's new product range. I love the glossy finish and the fact that they feel so much chunkier and more substantial than our old coasters.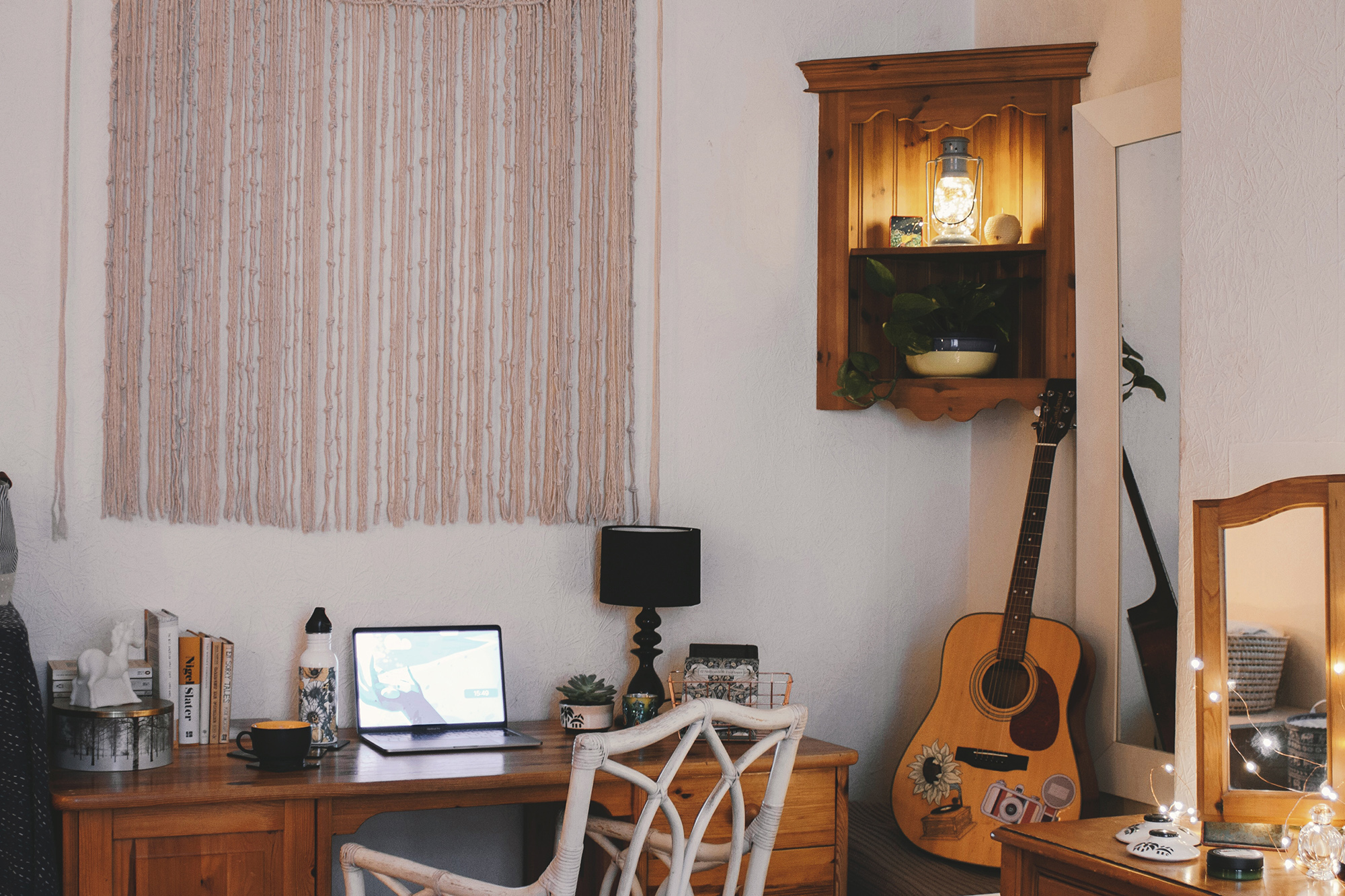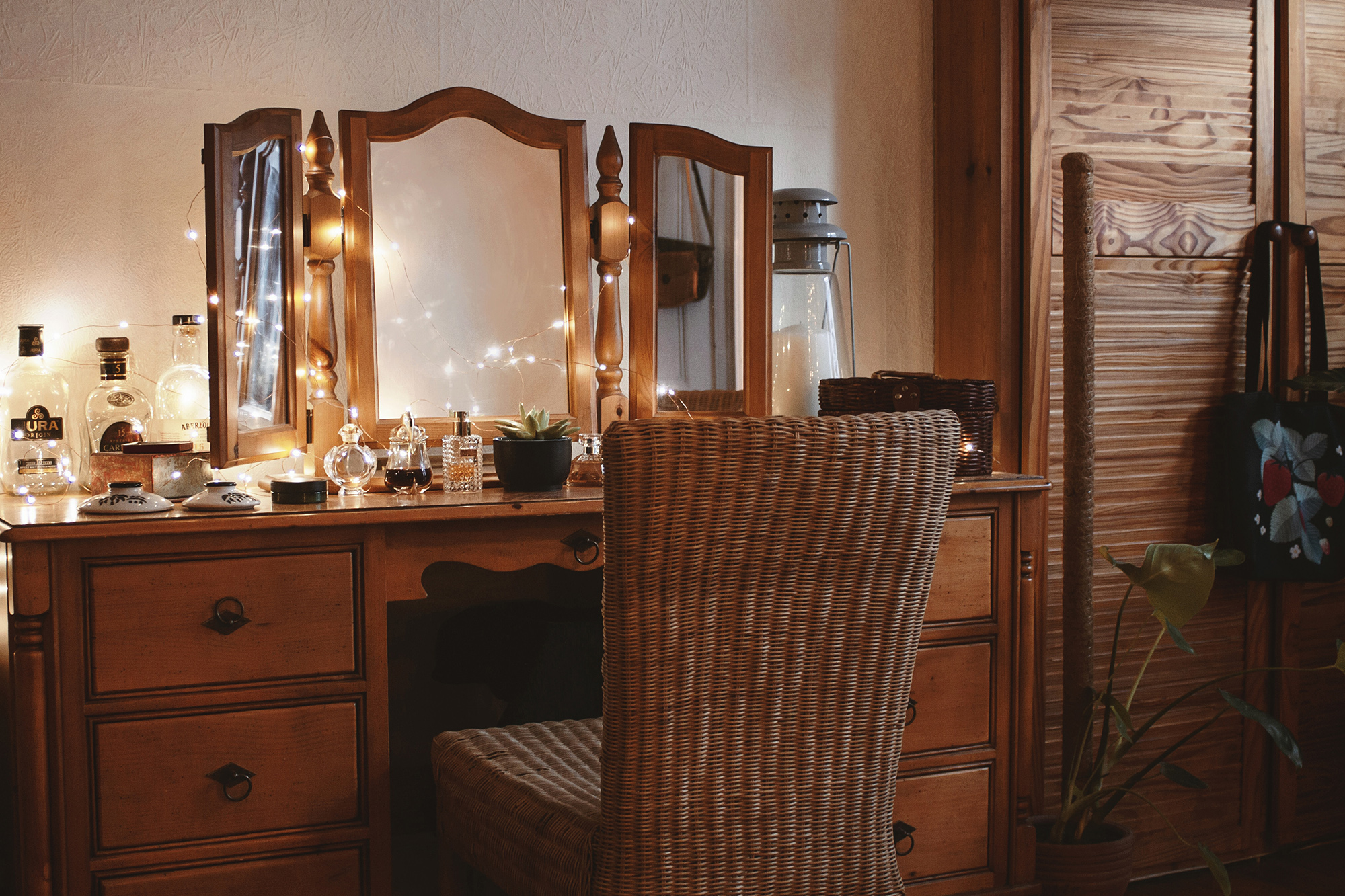 The dressing table. I love this wood and wicker corner of the room!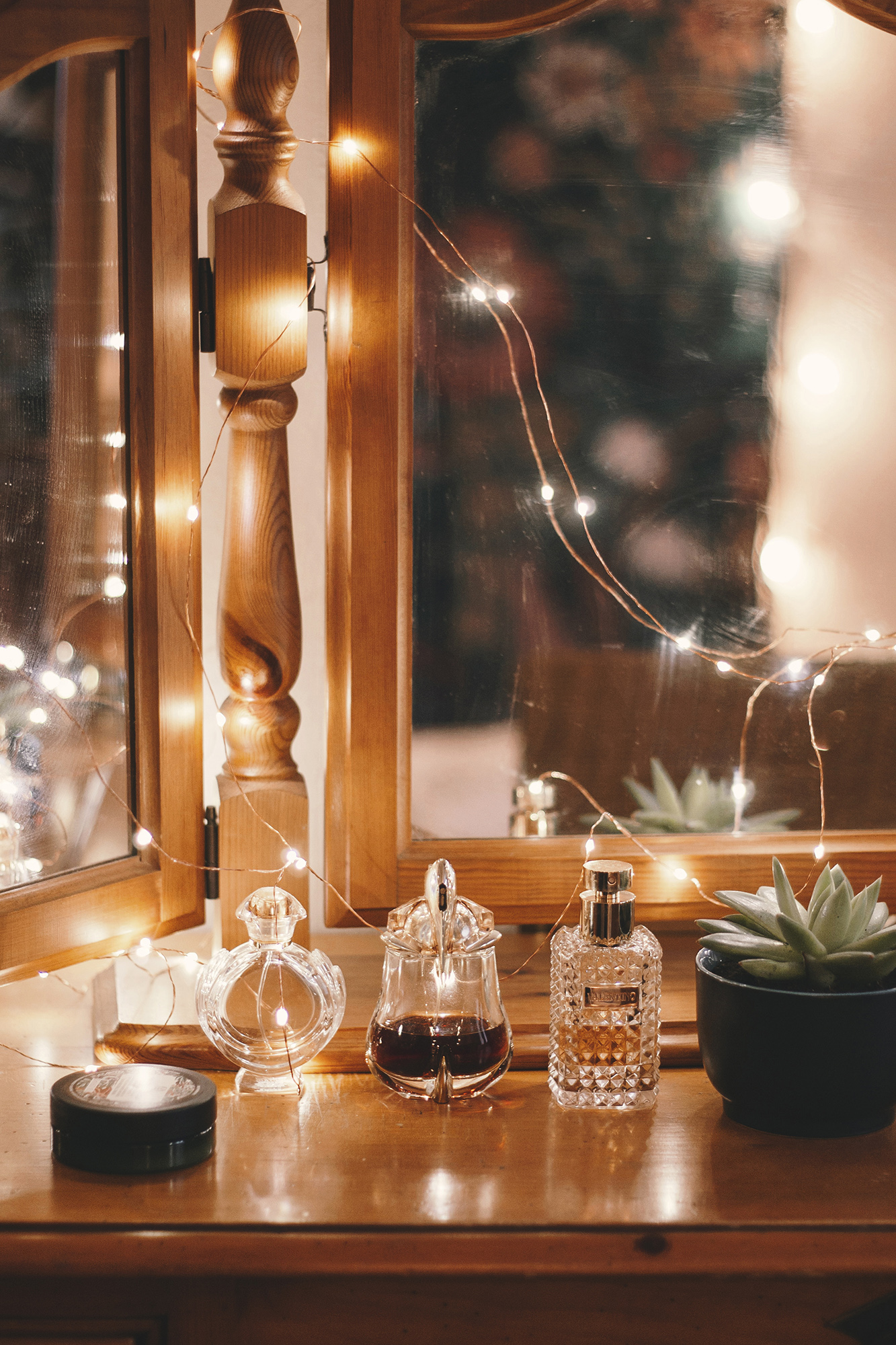 I nearly gave myself a panic attack trying to get this mirror clean when the marks just REFUSED TO BUDGE. I'm sorry guys, we're all just going to have to live with it.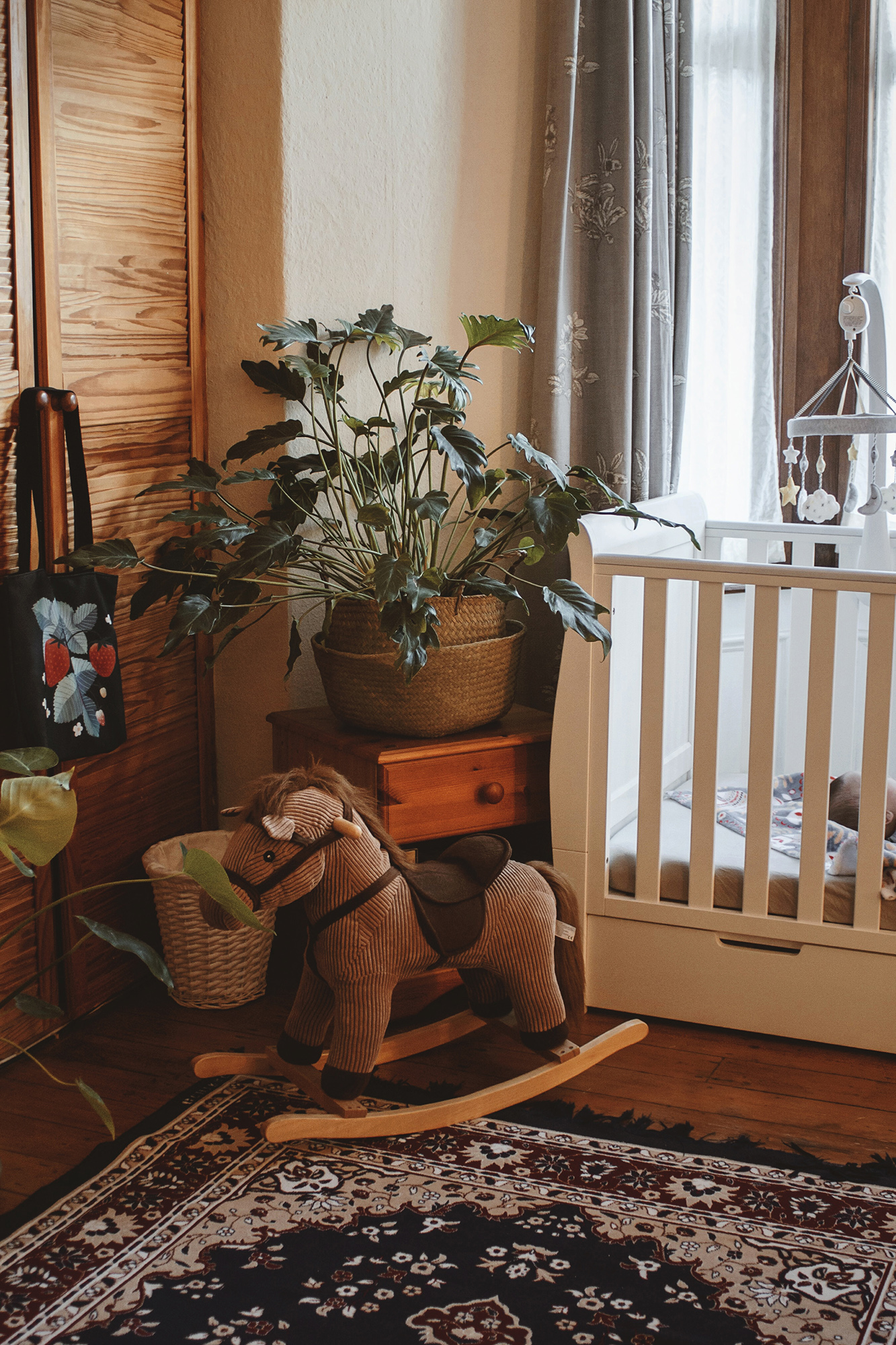 And now for Lila's corner of the room. The tote hanging from the wardrobe doors is yet another Redbubble product. I use my older tote from them all the time, it's a really handy and sturdy everyday bag, and this is a slightly smaller version.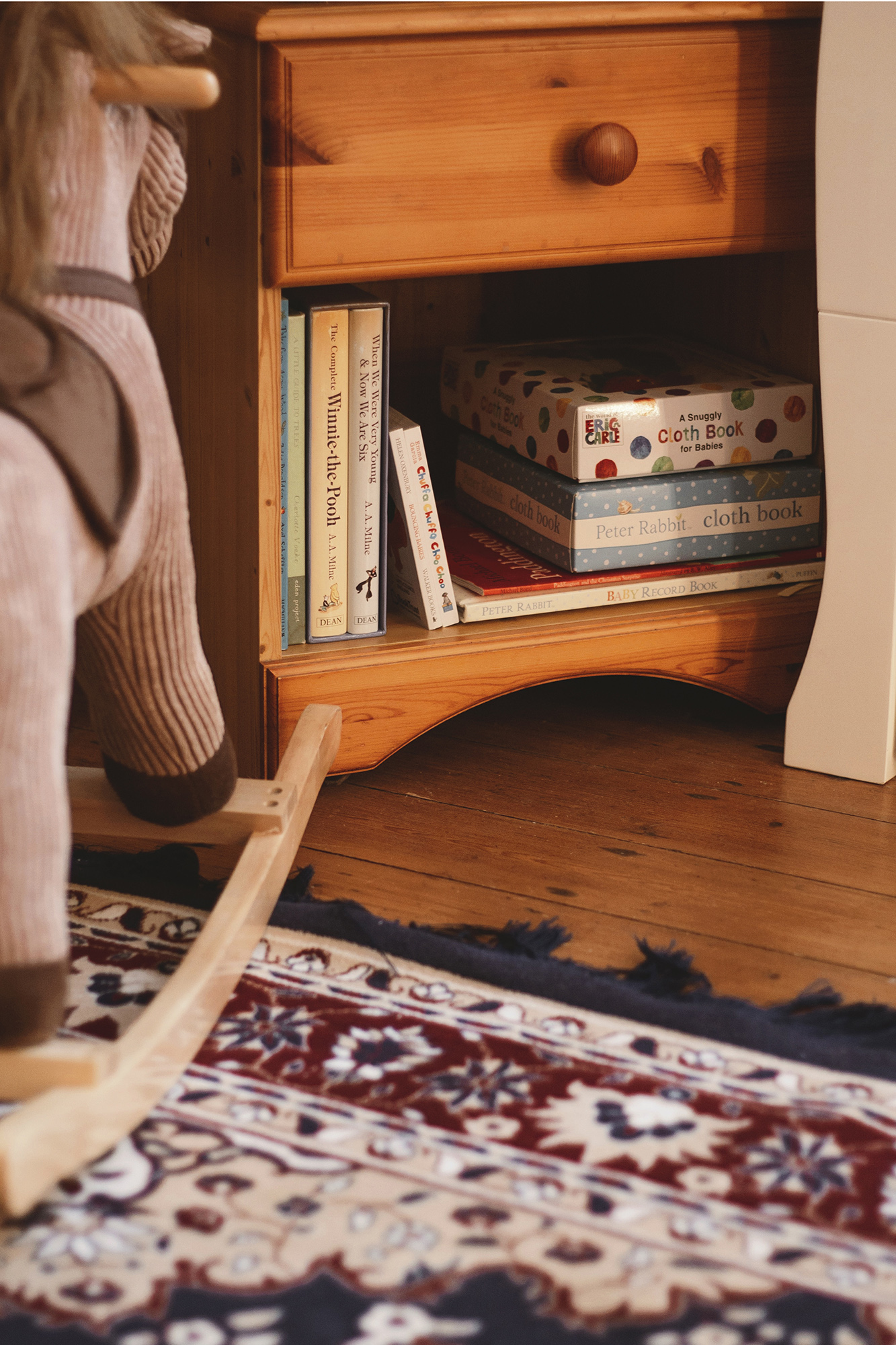 We've started off a little book nook for Lila as well! We've been adding to it every month, so that by the time she starts reading, she'll have a lovely little library of her own.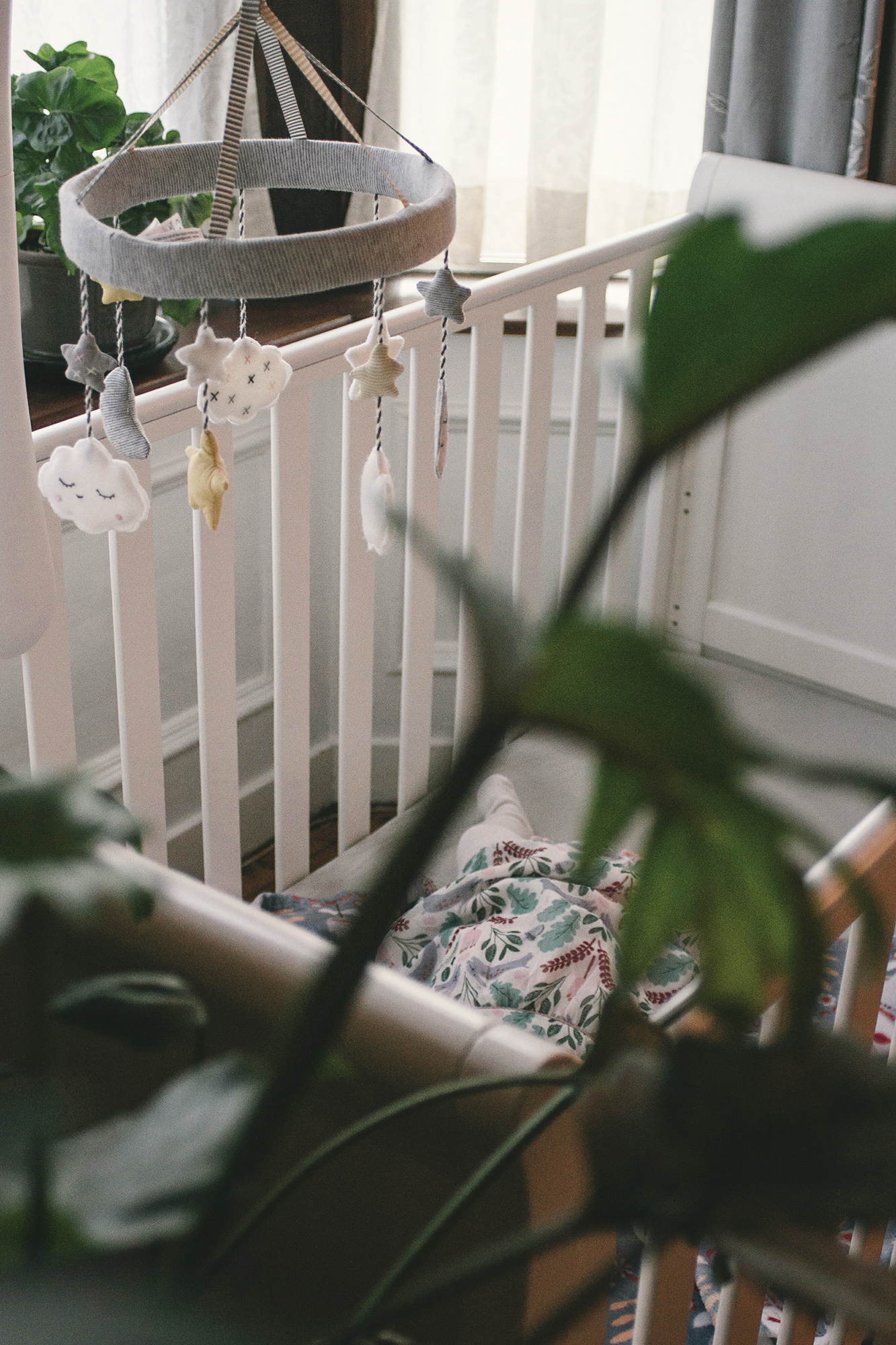 Lila with her cot mobile which I've named 'Netflix' because when she lies in her cot, she just looks at it and chills.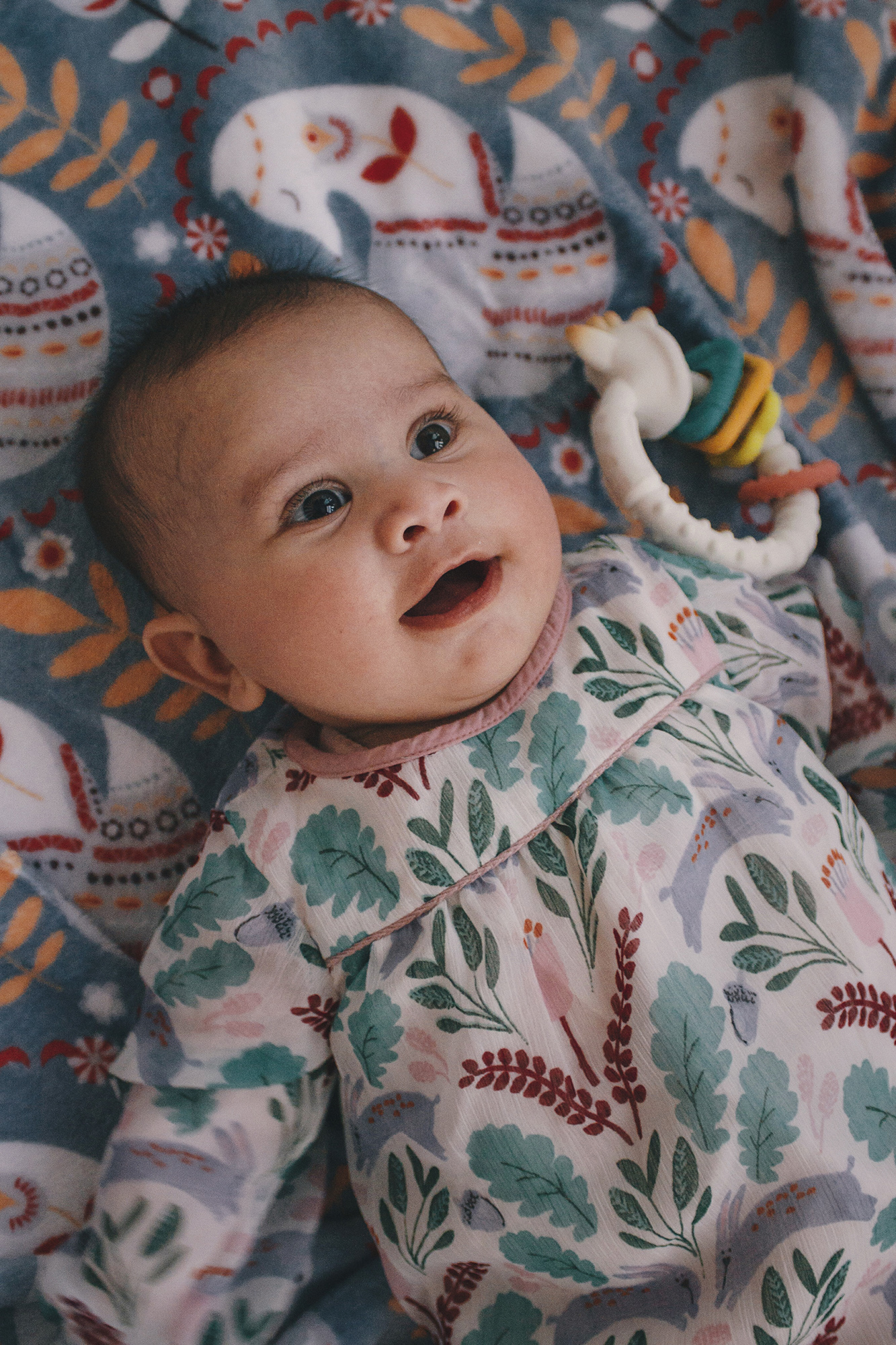 The babs herself with her Redbubble fleece blanket and Sophie teether. Like the water bottles, these fleece blankets have also been in daily use ever since we got them. Lila's baby sized one has actually been washed about 5 or 6 times now and there's zero change to the print or texture. I know I've gushed about them on Instagram but it bears mentioning again – I absolutely adore these blankets, they're so soft and snuggly and warm and hands down my favourite Redbubble product yet.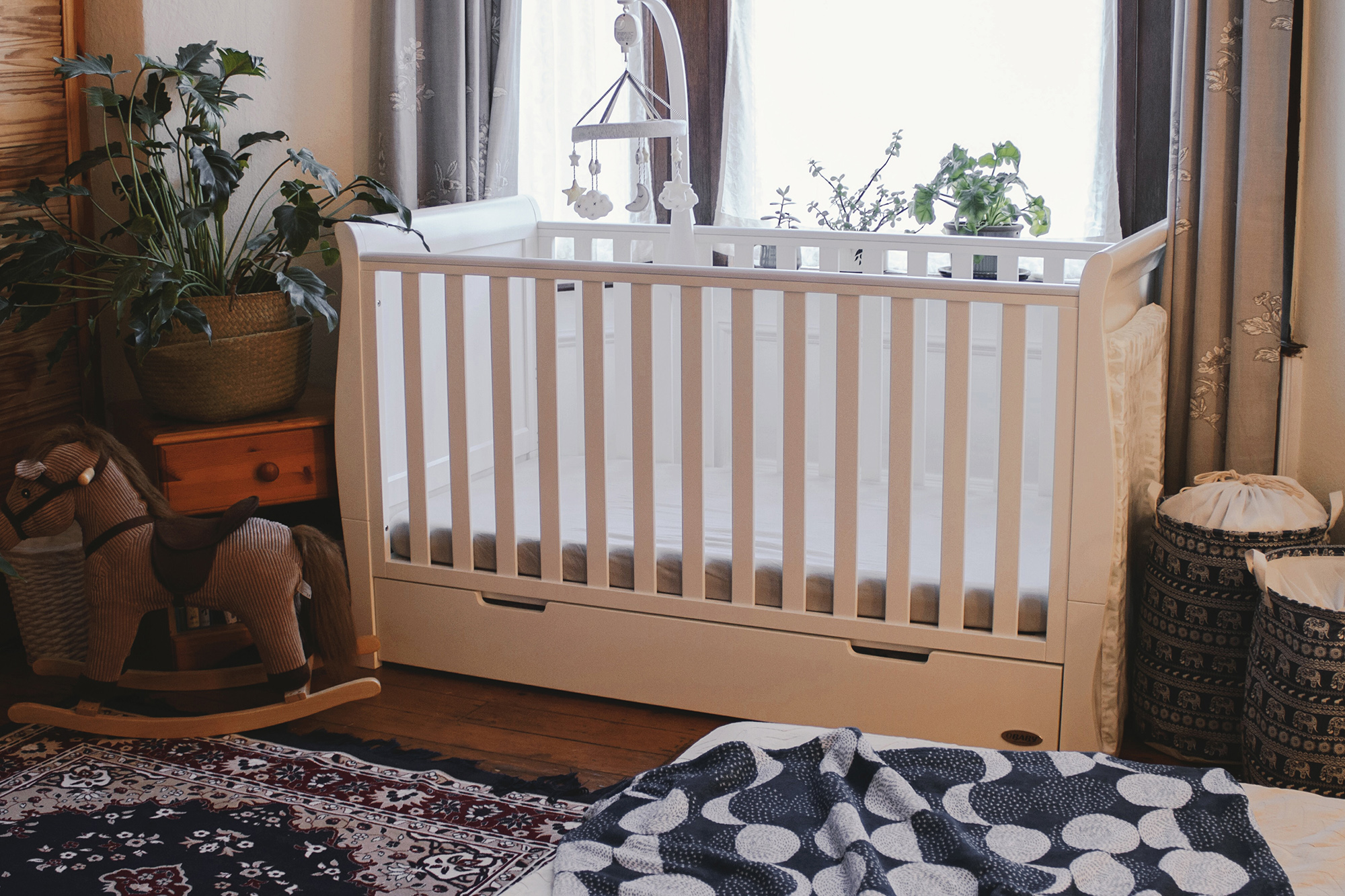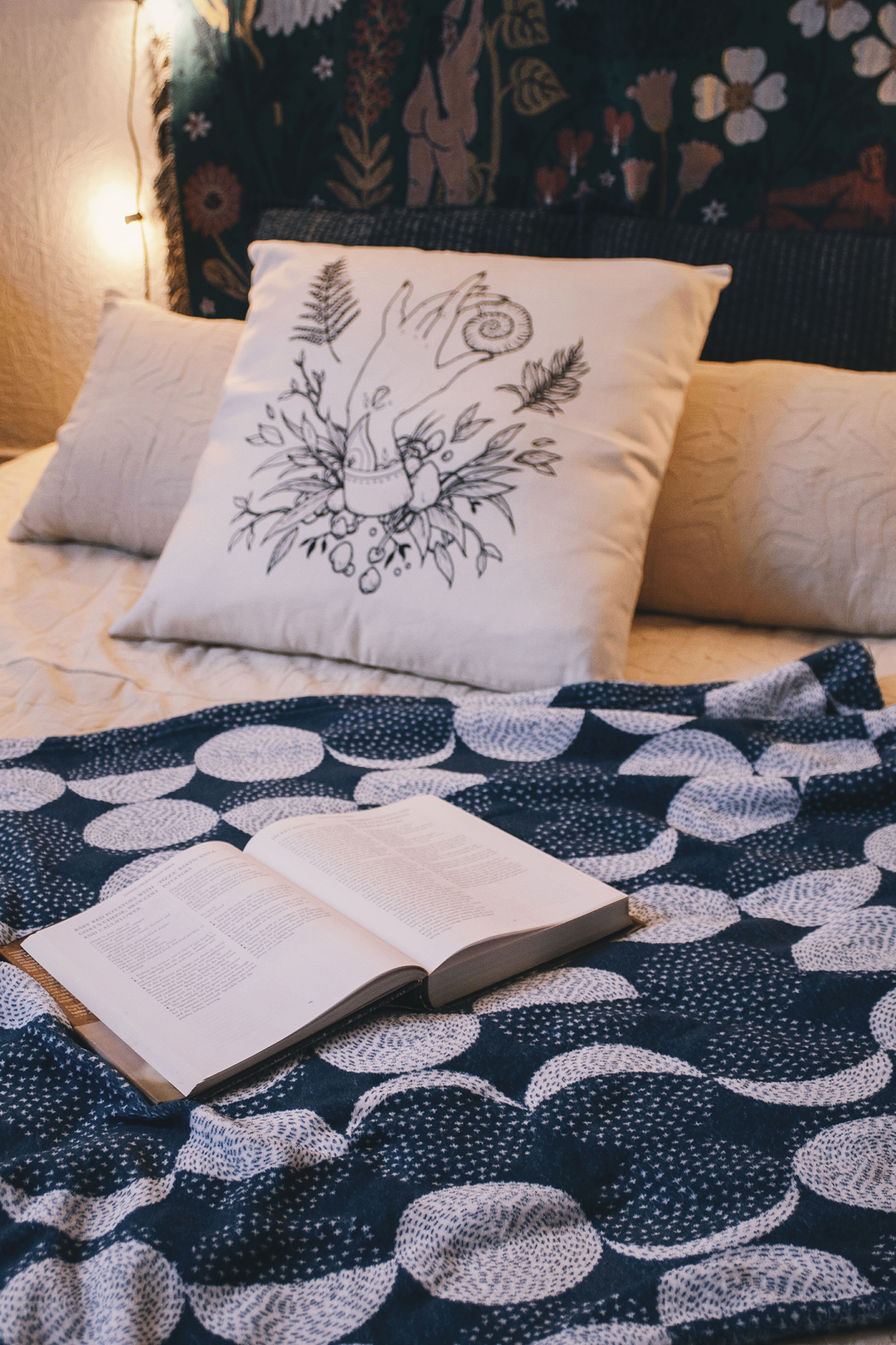 And this is the full sized fleece blanket on our bed. My indipensible companion for sneaky daytime naps when I can get Lila to have a little snooze in the afternoon!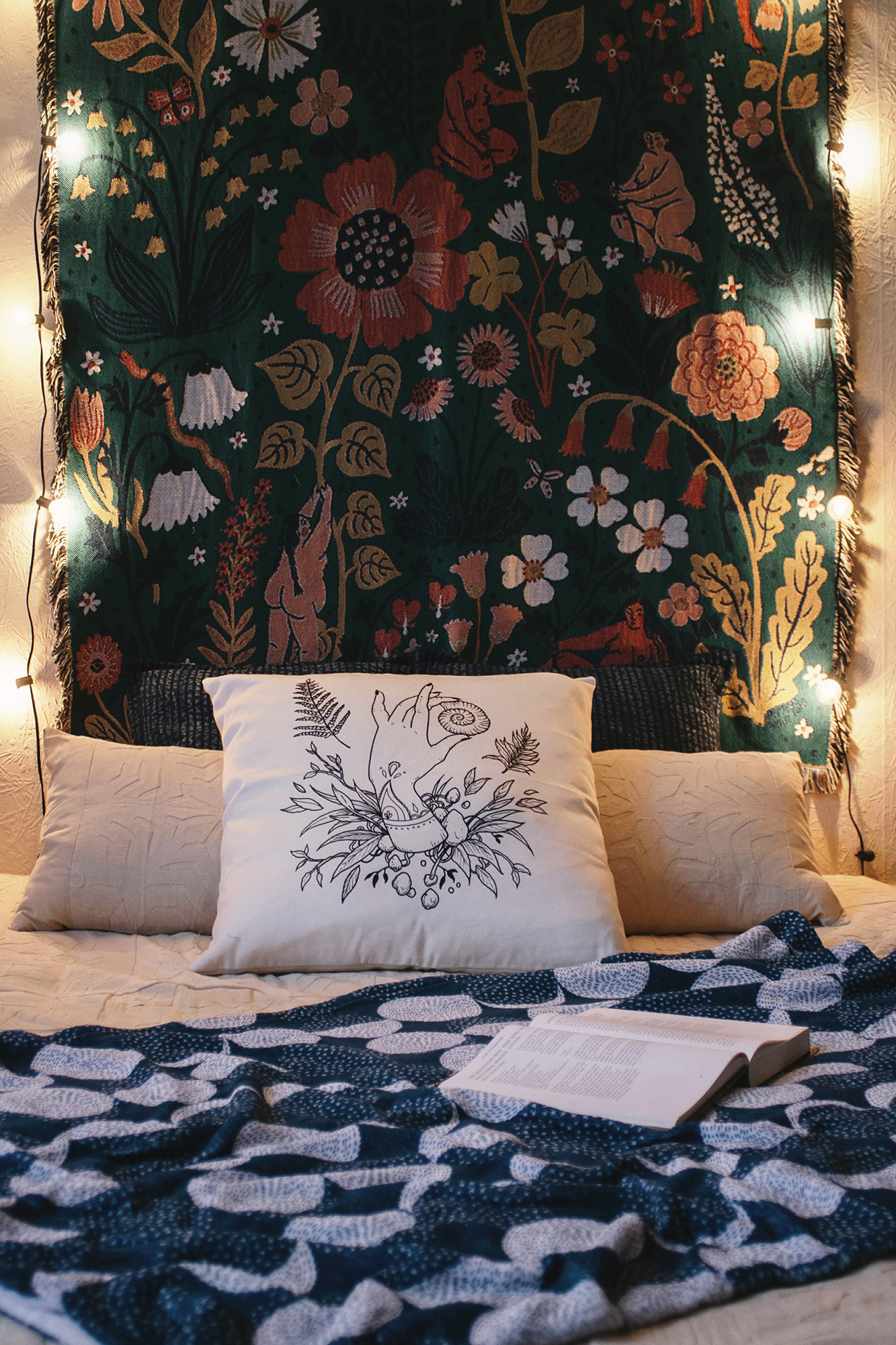 And finally, our bed wouldn't be complete without a selection of plump, snuggly cushions and this Redbubble floor pillow is just the right size to prop up my achy back. Instead of a bedhead, we have Phoebe Wahl's Bloom tapestry which she gave us as a wedding gift and a string of bulb lights around it. Doesn't it just tie the room together?
I hope you enjoyed this tour of our bedroom. It's not perfect and it'll never be complete as far as I'm concerned, it's a lived in room that's rough around the edges, but for all that it's cosy and joyful and it's just the sort of place I want Lila to remember as her first ever room.